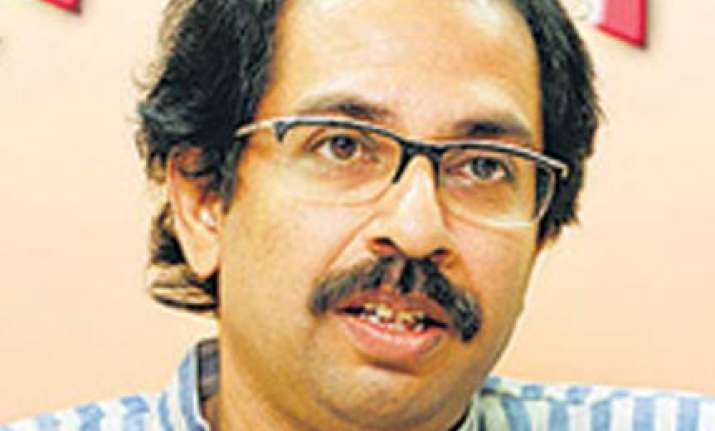 Mumbai: Close on the heels of the MNS demanding prime time slots for Marathi movies in theatres, the Shiv Sena on Tuesday claimed that the party has been fighting for the cause since long by filing a petition seeking compulsory 500 shows for movies in the language.
"Maharashtra Cine and Television Sena, has been fighting in the court since last three months demanding compulsory 500 shows of Marathi movies every year," Sena executive President Uddhav Thackeray said in the party mouthpiece 'Saamana'.
The decision in this regard is expected by tomorrow, he said.
"Sena is strongly behind the producers of Marathi films. The matter would not be solved only by publicity but we need to fight it out at the judicial level," Uddhav said taking a dig at his estranged cousin and MNS chief Raj Thackeray.
In June, the Bombay High court had ruled that single screen theatres in Greater Mumbai would have to temporarily screen at least 44 shows of Marathi films every year, against the minimum of 112 shows a year rule as per a resolution of the Maharashtra government, until a final decision in this regard is taken.
"The Government could not properly explain the court about Marathi movies and therefore the compulsory shows which were 112 earlier had been reduced to 44," Uddhav alleged and added that the Sena was demanding more shows.
Raj had warned multiplex owners to exhibit Marathi movies at prime time slots last week and also held a meeting with Marathi film producers yesterday.
MNS workers had held protests in the city, neighbouring Thane and Aurangabad districts in this regard.  
Highlighting efforts by other states to promote the local language, Uddhav said the Malayalam film industry enjoyed the backing of the Kerala government despite a major percentage of its movies failing to click at the box-office.
"In 2001, 70 Malayalam movies were released of which only 10 managed to do well at the box office. Despite losses of Rs 100 crore to the Malayalam film industry, their state Government was still in favour of the regional films and theatre owners were forced to show the movies," he said.
There are 1600 theatres in Maharashtra of which 500 are available for Marathi movies. In the running year, about 100 Marathi movies are expected to be released and the industry budget is of Rs 150 to 175 crore, Uddhav said.
 But the State government's contribution is only Rs eight to nine crore, he added.
Uddhav said the Sena will also demand concession in theatre rent for Marathi movies, as given to Hindi films. PTI