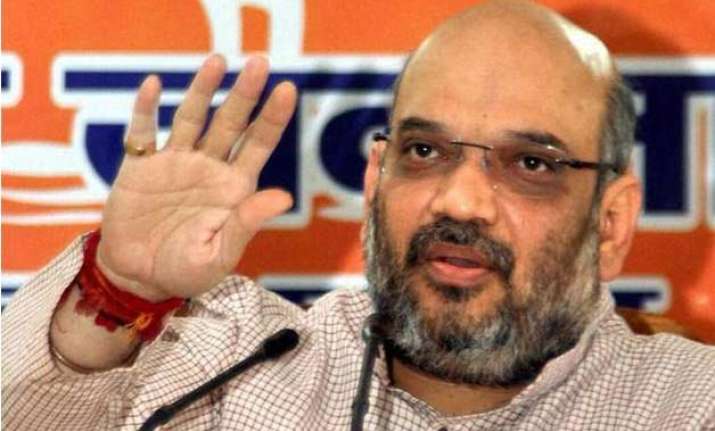 Dharamsala:  BJP president Amit Shah today said the major problem of Congress is that there is no scam during one year of BJP rule.
Addressing executive committee meeting of party's Himachal Pradesh unit here, Shah advised Congress not to make baseless allegations against BJP, but to "accept the popularity of our party, which not only has majority in Lok Sabha but is also ruling 13 states in the country".
He asked the state BJP leaders to work as a team keeping aside differences and build a stable and long-lasting BJP-led government in Himachal Pradesh after ousting Congress.  
"To make India a Congress-free nation, a BJP government is definitely required in Himachal," Shah said, noting that even though BJP had ruled the state in the past, it was not a long lasting one.
"HP should follow the examples of Gujarat, MP and Chhattisgarh, where the party formed government and maintained it by regular wins," he said.
Started by just 10 leaders in 1950, BJP is now a group of 10 crore people, he claimed.
"BJP is the biggest political party of the world and now our main aim is to keep the top position intact," he said.  
"We will convince these 10 crore members to become active workers too. This Mahasampark Abhiyaan will be completed by October this year," he said.
Shah launched the party website and magazine of Himachal Pradesh at the two-day executive committee meeting of the party which started yesterday.
Union Health Minister J P Nadda, BJP's state in-charge Srikant Sharma, party secretary Ram Lal, former chief ministers Shanta Kumar and P K Dhumal and MP Anurag Thakur were present in the meet.
Before leaving for Delhi tomorrow, Shah will meet Dalai Lama at Mecleodganj.