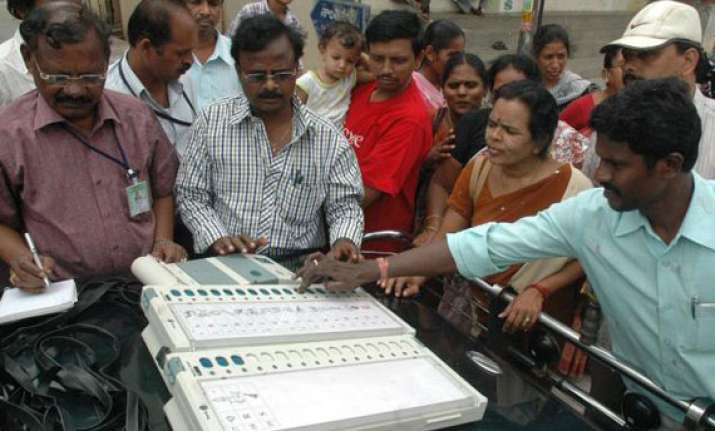 New Delhi:  The Supreme Court Tuesday said that EVMS with voter verifiable paper audit trail, more commonly known as "paper trail", was an indispensable requirement for free and fair elections as it ensures the accuracy of the voting system.
"We are satisfied that the 'paper trail' is an indispensable requirement of free and fair elections. The confidence of the voters in the EVMs can be achieved only with the introduction of the paper trail. EVMs with VVPAT system ensure the accuracy of the voting system," said a bench of Chief Justice P.Sathasivam and Justice Ranjan Gogoi in their judgment.
"With an intent to have fullest transparency in the system and to restore the confidence of the voters, it is necessary to set up EVMs with VVPAT system because vote is nothing but an act of expression which has immense importance in democratic system," said Chief Justice Sathasivan pronouncing the judgment.
Besides the exercise of vote through EVMs, the associated VVPAT also records the same vote on a paper slip that remains in a sealed box to be retrieved in the event of a dispute on the counting of votes.
Taking note of the "pragmatic and reasonable approach of the ECI (Election Commission of India) and considering the fact that in general elections all over India, the ECI has to handle one million polling booths, we permit the ECI to introduce the same (EVMs with VVPAT) in gradual stages or geographical-wise in the ensuing general elections", the court said.
Giving the poll panel a free hand to implement the EVMs with VVPAT, the court said: "The area, state or actual booth(s) are to be decided by the ECI and the ECI is free to implement the same in a phased manner."
It also directed the central government to provide required financial assistance for procurement of units of VVPAT.
The court's direction came on the petition by Bharatiya Janata Party leader Subramanian Swamy who had faulted the EVMs alleging that they could be manipulated and only safeguard was the introduction of paper trail linked to the EVM.