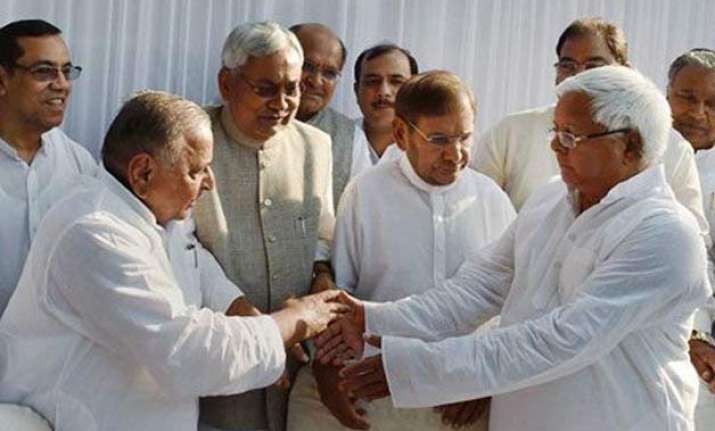 Patna: Further fissures have emerged in Chief Minister Nitish Kumar-led 'grand alliance' in Bihar with Samajwadi Party, which has not been allotted any seat in the upcoming polls, complaining of complete neglect and launching an indefinite fast demanding its "rightful share".
The Nationalist Congress Party, an ally, had yesterday questioned the "meagre" three seats offered to it, while JD(U) and RJD got 100 each and Congress 40, and termed it "an insult" by alliance partners.
"SP played the biggest role in bringing Kumar and RJD chief Lalu Prasad together, as well as, forging the secular grand alliance. But, in turn it has been completely ignored.
We were not even consulted during seat distribution. We have started indefinite fast to protest this treatment meted out to us," SP Bihar unit president Ram Chandra Yadav said.
Altogether 51 state SP leaders are participating in the indefinite fast and Yadav said "it will continue till either grand alliance gives the party its rightful share or SP chief Mulayam Singh Yadav gives specific directions on the issue".
Yadav also said he will request Mulayam Singh Yadav to forge alliance with Left parties and NCP and contest all 243 Assembly seats in Bihar if the party remains ignored by the grand alliance.
The grand alliance includes JD(U), RJD, Congress and NCP in Bihar with an aim to check BJP-led NDA in Assembly polls.
It was cobbled up at Mulayam Singh Yadav's residence in New Delhi where representatives of these parties, as well as, other Janata Parivar parties met several times to iron out their differences.
Kumar was anointed the chief ministerial candidate for Bihar polls at one of these meetings and the Samajwadi Party chief is said to have played a key role in bringing him and Prasad together.
At a press conference two days ago by Nitish Kumar, Lalu Prasad and Congress Bihar in-charge C P Joshi, the alliance had declared its seat-sharing arrangement for the 243-seater Assembly.
While JD(U) and RJD got 100 seats each, Congress was given 40 and only three were left for NCP to contest. SP was not given any seat, despite its presence in the state.
NCP was quick to react and is already on warpath with its general secretary and Lok Sabha member from Katihar constituency Tariq Anwar demanding at least 12 seats for the party in the state polls.
Speaking on the issue, the SP state president further said, "Our leader Mulayamji did so much for creating this grand alliance. We accept that SP is a smaller party in Bihar, but the way we have been treated in seat distribution shows the arrogance of bigger parties like JD(U) and RJD."
He also pooh-poohed the statement of RJD chief Lalu Prasad over no seats being given to SP. Prasad had pointed out that Mulayam Singh Yadav was his 'samdhi' (groom's guardian) and he will be incorporated if the need arises.
Prasad's youngest daughter Raj Lakshmi is married to Tej Pratap, a grandson of Mulayam and the marriage has brought the two Yadav stalwarts of Bihar and Uttar Pradesh together.
"Prasad only circumvented the issue. He and Kumar are changing colours like chameleons. If their stance is like this, we can imagine what will happen in future," the SP state president added.
Yadav also pointed out that Mulayam was silent over the issue till now, but was supposed to speak over it soon and his directions will decide the future path of the party in Bihar.