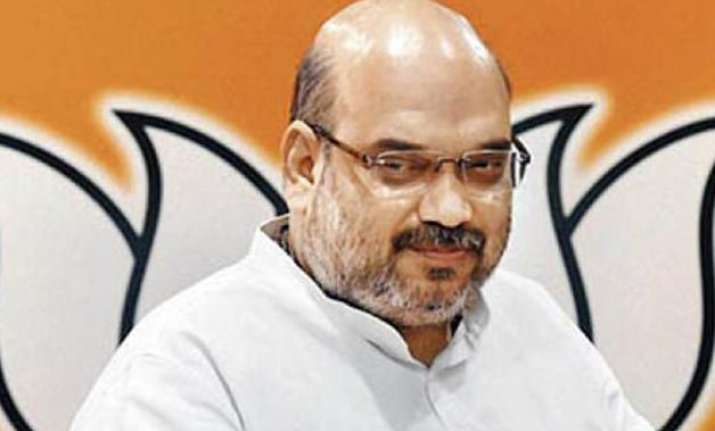 New Delhi: After Rashtriya Swayamsevak Sangh (RSS) warned the ruling BJP against a disconnect with its workers, BJP chief Amit Shah has now decided to meet party workers twice a month.
At a coordination meeting between senior BJP and RSS leaders yesterday, RSS expressed its concern over disconnect between workers and the top brass in the BJP. RSS feels that it could hurt party's prospects in upcoming elections in Bihar and UP.
It was decided that Amit Shah will meet the workers on every first and third Monday of the month at the party headquarters. Shah is expected to meet BJP party workers in Patna on April 14.
At the meeting which took place at the residence of Nitin Gadkari, it was decided that a monitoring cell should be set up to ensure that the Centre's initiatives and functioning were in line with the expectations of the Parivar cadre.
Apart from the ways to strengthen the party's base in various states, an analysis of the debacle in the Delhi assembly polls was also on the meeting's agenda. Current political matters, coalition government in Jammu and Kashmir, the situation arising out of the new land Bill also came up for detailed discussion in the meeting.
BJP and RSS assessed the 10 months since Prime Minister Narendra Modi came to power after winning the national election.
Senior RSS functionaries including Sangh general secretary and second-in-command Suresh 'Bhayyaji' Joshi, joint general secretaries Krishna Gopal, the RSS pointsman with the BJP and Suresh Soni represented RSS at the meeting. From the BJP side, Amit Shah, general secretaries Ram Lal and Ram Madhav, and union ministers Rajnath Singh, Sushma Swaraj, Arun Jaitley and Gadkari were present.