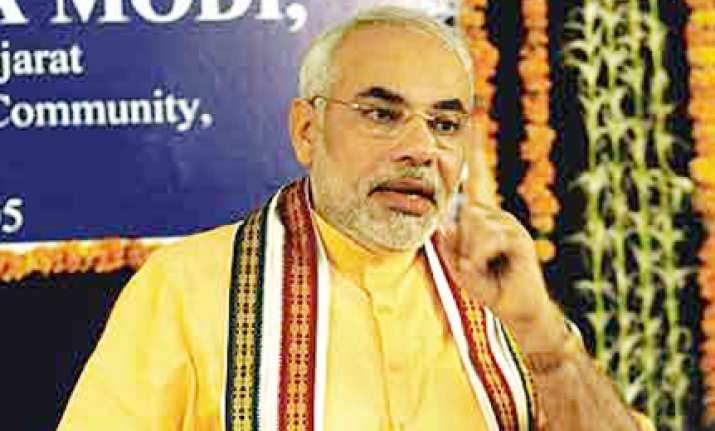 The Rashtriya Swayamsevak Sangh is ready to consider Gujarat chief minister Narendra Modi  as BJP president only if he tones down his autocratic attitude, RSS sources in Nagpur told Chandran Iyer of MidDay. 
The RSS is likely to ask Hindutva stalwart Narendra Modi to head the BJP after current party president Rajnath Singh ends his term in December. Modi is considered the only BJP leader at present who has grassroots support, a pan India mass appeal and a powerful orator who can swing votes in favour of the party.
The buzz at the RSS headquarters in Nagpur is that RSS chief Mohan Bhagwat is extremely keen to have hardliner Modi occupy political centerstage at the national level.
But, there is an important postscript.
 
Dilip Deodhar, a senior RSS watcher, who has written more than 30 books on the party pointed out, "Bhagwat may have told Modi that the RSS wants him to lead the BJP.  But on the spectacular condition that he amends his autocratic style of functioning, which Bhagwat feels is not in keeping with the RSS style. Modi has also been told to be more accessible to party workers." 
In fact, say RSS watchers, Modi has been told that the 2014 parliamentary elections for the party, could be held under his leadership, provided he changes his style of functioning.
In his home state Gujarat , it is legend that Modi rarely meets his MLAs or cadres, yet always makes time for businessmen and investors.
A senior RSS activist pointed out that despite the condemnation for Modi by secularists, his credentials as the man who remodelled Gujarat cannot be denied.
"Modi also has a good equation with Bhagwat and the RSS considers him to be committed to the Hindutva ideology unlike Advani and Vajpayee with whom it has never had smooth equations," said the activist.
Said Deodhar, "Everyone in the RSS knows that sooner or later Modi will replace Advani, but nobody will speak officially as Bhagwat has asked everyone cadres and senior functionaries to be circumspect while talking to the media."
Deodhar added that had BJP leader Pramod Mahajan been alive, Modi wouldn't have stood a chance for the top post. "But now, the only person that Bhagwat says is fit enough for the role, is Modi."
A senior activist pointed to another overwhelming proof of the RSS' intimacy with Modi the choice of Ahmedabad for a RSS convention.
A three-day high level meeting of RSS intellectuals is being organised in Ahmedabad from September 18 in which 21 prominent RSS leaders will present papers to outline vision India 2025.
RSS sources in Nagpur reiterated there was nobody who could match Modi's magnetism, especially Leader of Opposition, L K Advani.
M G Vaidya, RSS ideologue and former spokesperson admitted, "Advani has become a liability because of his age and it is in the interest of the party that he step aside and make way for younger leaders." But he refused to spell out who could replace Advani.
Another RSS source added that Advani knew the RSS was unhappy with him, yet he refused to step down.
A veteran RSS leader said the erstwhile RSS chief K S Sudarshan used to openly criticise former PM Atal Behari Vajpayee.  The former PM always maintained a studied silence and as a result he became larger than life and diminished Sudarshan's standing. This is something which the RSS does not want to do at this point of time.