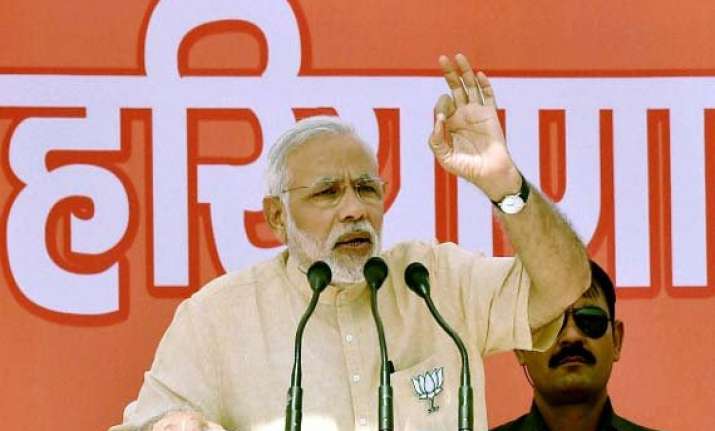 Chandigarh:  An unprecedented 24 per cent surge in vote share helped BJP storm to power in Haryana Assembly elections and win seats almost 12 times the number it had won in the last elections.
The rise in voters' confidence, which helped BJP in increasing its seats from four in the last elections to 47 in the 90-member House this year, also took a toll on dynasty politics.
BJP's vote share increased to 33.2 per cent from a meagre 9.05 per cent it got in 2009 Assembly polls. The saffron party got 41.25 lakh votes this time and left behind Congress (which got 20.6 per cent or about 25.57 lakh votes), which was ruling the state for past ten years.
Regional parties like like Indian National Lok Dal (INLD) and Haryana Janhit Congress (HJC) have got 24.1 per cent and 3.6 per cent vote share. About 29.96 lakh and 4.43 lakh people voted for INLD and HJC respectively.
INLD had got 25.79 per cent vote share and HJC 7.40 per cent in the last Assembly elections.
It is for the first time that BJP will form government in the state, bordering national capital Delhi.  INLD, which was seeking to return to power after a decade of wilderness, were dashed as two of the three members of Om Prakash Chautala family won their seats.  
While senior INLD leader Abhay Singh Chautala won from Ellenabad constituency, Naina Singh Chautala and wife of party's senior leader Ajay Singh Chautala, who is currently serving prison term in JBT scam case, won from Dabwali seat.  Naina is the first woman from the Devi Lal clan to have contested the polls.
However, Dushyant Chautala, INLD's Hisar MP and grandson of former Chief Minister Om Prakash Chautala, lost to Prem Lata Singh of BJP, wife of senior saffron party leader Birender Singh, in Uchana Kalan seat.
Prime Minister Narendra Modi and other BJP leaders, including party chief Amit Shah had aggressively campaigned in Haryana in the run up to the polls, asking the voters to put an end to the rule of political dynasties in the state.