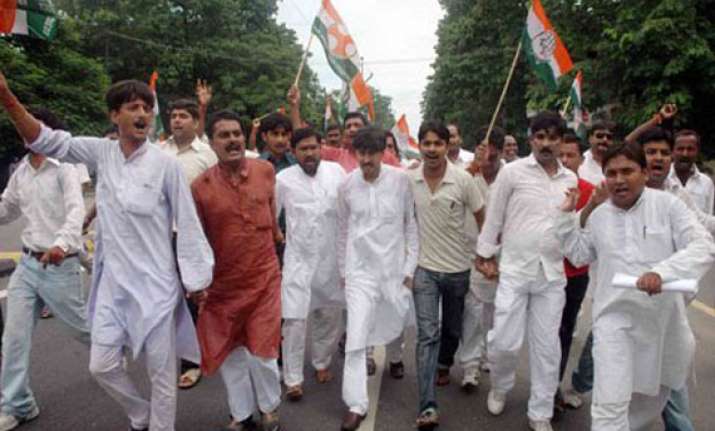 New Delhi, Feb 19: A rebellion seems to be brewing in the faction-ridden Bihar unit of Youth Congress over the disqualification of the candidature of a leader, who had won the election for the President of Bihar Youth Congress with a huge margin only last month.
Youth Congress Presidents of several Lok Sabha seats of the state besides other office bearers are camping in Delhi for the last few days seeking an audience with Congress Vice President Rahul Gandhi, who looked after the affairs of Youth Congress and NSUI as Congress general secretary.
Sanjeev Singh had won the January 21 election for Bihar Youth Congress with a margin of around 1600 votes.
However, the Foundation of Advanced Management of Elections (FAME) which supervises Youth Congress elections, withheld declaration of the results and finally disqualified Singh on February 7 for alleged non-disclosure of a CBI case lodged against him 17 years back regarding an admission scam.
Contesting FAME's contention, Singh's supporters have in a memorandum to the senior Congress leaders said the basis on which the disqualification order was issued is "baseless and far from reality".
They argued that if such cases without any charge sheet could be the basis for action against one, how can FAME give clean chit to state Youth Congress Vice President Kumar Ashish, who was also allegedly booked in a question paper leak case not long before.
Kumar Ashish, however, dubs the case against him a "political conspiracy" and stresses that there was no charge sheet against him.
Asked about the controversy, the National President of Youth Congress Rajiv Satav said Sanjeev Singh has demanded a review of FAME's decision but it is for the FAME to take a call on it.
"As far as we are concerned, FAME recommended for his disqualification and we have disqualified him. Now there is no President in Bihar Youth Congress Committee. If they have some grievance, they have to approach FAME," Satav said.
The supporters of Sanjeev Singh have already met AICC general secretary Digvijay Singh and Satav over the issue.
The Sanjeev Singh camp suspects that there is a move to hand over the charge to the rival group led by Vice President of Bihar Youth Congress Kumar Ashish, who is stated to be close to former PCC chief and Congress Working Committee member Shakeel Ahmed.
Singh is believed to be close to another former PCC chief Anil Sharma.
The camp led by Sanjeev Singh alleges that Kumar Ashish was named in question paper leak case after which he was expelled from Youth Congress some time back.
He wondered how can there be "two standards on a similar issue". "
Kumar Ashish was made a delegate of Pradesh Congress when Shakeel Ahmed was the PCC chief.
"Youth Congress Presidents of 28 of the 40 Lok Sabha seats of Bihar have come to the national capital. They will also resign if some corrective measure is not taken," Sanjeev Singh said demanding a review of the decisions to cancel his candidature.
However, Kumar Ashish, who formally took charge as Youth Congress Vice President in Patna yesterday, rubbished the claims of support by Singh saying while six of the eight office-beaerer of the state were present in the meeting called by him, Lok Sabha Presidents of 20 seats also made to it, that too without any formal invitation.
The camp led by Kumar Ashish feels that the claim by Sanjeev Singh's group that 28 of the Lok Sabha Presidents in the state are supporting him is "false" and that "signatures have been forged".
Asked about the apprehensions in one of the camps that Kumar Ashish may later be promoted as Youth Congress President as Sanjeev Singh stands disqualified, Satav said the focus is on the committee and not on one individual.