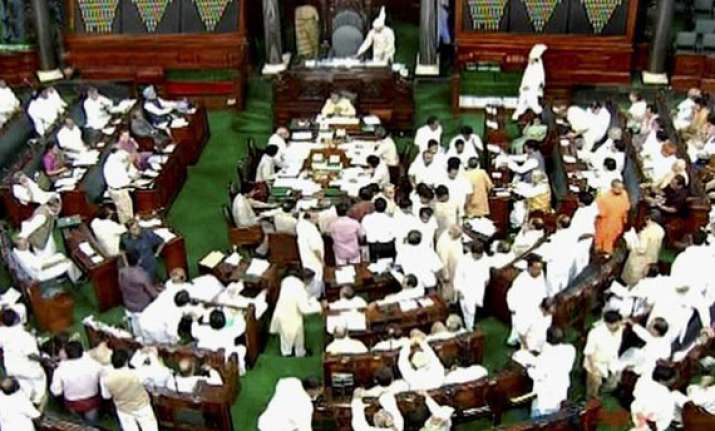 New Delhi, Nov 23: Rajya Sabha witnessed uproarious scenes for the second consecutive day on Friday on the issue of reservation in promotions for SCs/STs, leading to its adjournment twice.
Soon after the House re-assembled at noon, after its first adjournment, BSP members trooped into the Well raising slogans in favour of reservation to SCs/STs in promotions in government jobs.
Amid din over the issue, SP members opposed BSP's demand for such quota.
BJP members also stood up could not raise any issue due to the prevailing ruckus.
As E M S Natchiappan, who was in the chair, took up the proceedings, BSP and SP members raised the pitch of their sloganeering causing further uproar.
"Aarakshan vidheyak pehle lao, pehle lao" (bring reservation bill first)," shouted BSP members led by Brajesh Pathak. They were countered by SP members who chanted "promotion mein aarakshan nahin chalega" (reservation in promotions will not be allowed).
As the slogan shouting continued, the report of the select committee on Lokpal Bill was tabled in the House by Shantaram Naik (Cong). Reports of select committees on Health, Home Affairs and Agriculture were also laid.
Amid the prevailing pandemonium, Minister of State for Home rose to table the North-Eastern Areas (Reorganisation) Amendment Bill, 2012.
Sensing the mood of the House, the Chair adjourned it till 2.30 PM.
Earlier, when the House met for the day, BSP supremo Mayawati was on her feet demanding a bill to provide for reservation to SCs and STs in promotions in government jobs.
BJP members led by M Venkaiah Naidu too were up on their feet raising the issue of FDI in retail sector. As noisy scenes prevailed, Chairman Hamid Ansari adjourned the House till noon.