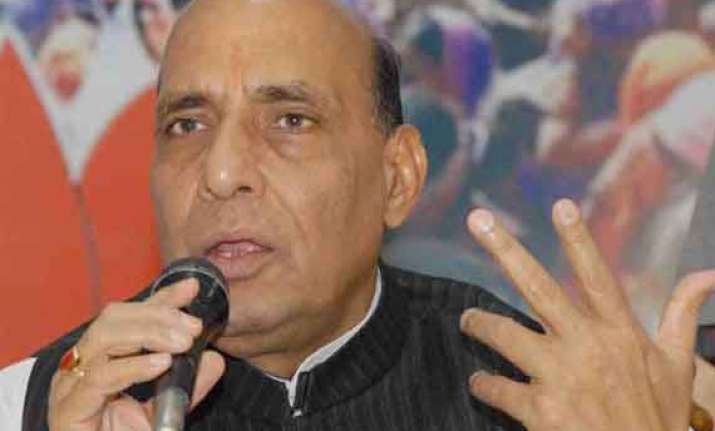 New Delhi: The BJP, under fire by detractors for centring its whole poll campaign on Narendra Modi, found itself in a spot today with its chief Rajnath Singh first projecting the party in a tweet and retweeting minutes later "Ab Ki Baar, Modi Sarkar (Time for a Modi government).  Singh's first tweet, posted at 1.17 pm, "Time For Change, Time For BJP. Abki Baar, Bhajapa Sarkar(This time BJP government)", appeared to be responding to criticism that the BJP is becoming a one-man show.
Even as the social media was speculating on this tweet, 33 minutes later, Singh re-tweeted bringing Modi back on the forefront.
"Time For Change, Time For BJP. Bahut Hui Mehngai Ki Maar, Abki Baar Modi Sarkar. (Enough of being hit by price rise, this time Modi government)."
The party had yesterday distanced itself from the "Har Har Modi slogan and gave another slogan, "Ab ki baar, Modi sarkar" (This time, Modi government).
"It has come to our notice that in a few television channels there are discussions on "Har Har Modi" as if it is a BJP "nara" (slogan)," party spokesperson Nirmala Sitharaman said in a statement yesterday.
At the party briefing today, BJP Vice President Mukhtar Abbas Naqvi justified the BJP campaign revolving around Modi, saying it is so in any democratic country when the campaign is focussed around the party's Prime Ministerial candidate.
"BJP and Narendra Modi are made for each other. You should not view it separately. If Modi is our Prime Ministerial candidate and he is popular, one cannot help it. There is no confusion... BJP and Modi are not separate," Naqvi said.