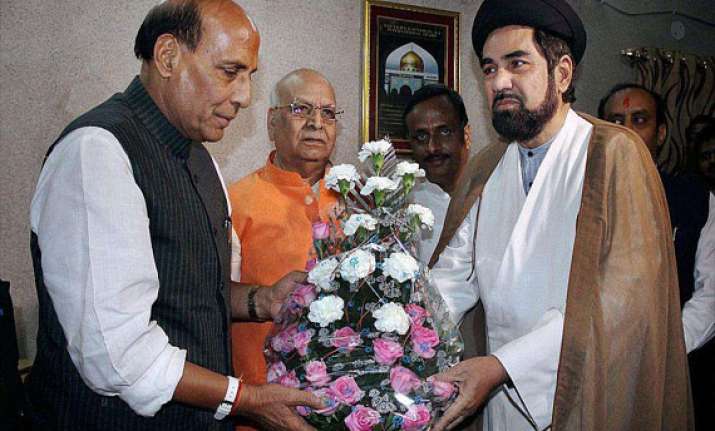 Lucknow: In an apparent attempt to garner support from Muslims ahead of the Lok Sabha polls, BJP president and party nominee from the Lucknow seat, Rajnath Singh, met prominent Muslim clerics here.
Singh along with sitting MP Lalji Tandon and Mayor Dinesh Sharma last night met vice-president of the All India Muslim Personal Law Board Maulana Kalbe Sadiq and Maulana Kalbe Jawwad, Maulana Hameeudul Hassan, Maulana Yasoob Abbas and Maulana Khalid Rasheed Farangi Mahali, party sources said.
Talking about the meet, Tandon today said, "These are courtesy meetings. Every candidate meets prominent people of different sections of society and seek their support." According to him, there were no political discussions at the meeting in which the clerics discussed problems faced by Muslims and emphasised the need for special opportunities for the community in the field of education.
Maulana Farangi Mahali said the meeting was held in a good atmosphere during which discussions took place on issues related to Muslims.    He said Singh had old relations with his father and had been visiting him even when he was chief minister of Uttar Pradesh.