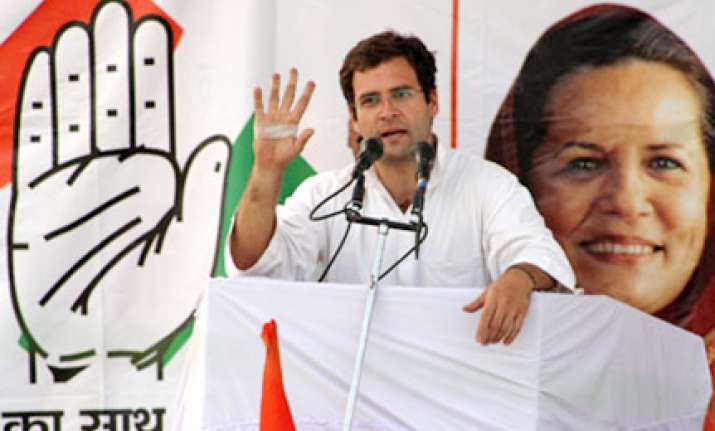 BJP-led NDA's 'India Shining' slogan was rightly rejected by the voters in 2004 as it ignored large swathes inhabited by the rural poor, Congress leader Rahul Gandhi said on Friday and accused the Opposition parties of indulging in divisive politics.
"India was shining only in urban parts and that too within the elite class. The poor and common man were totally ignored by the NDA Government," he said.
Congress is a party of the poor and common man and believes in making them economically stronger to make India prosperous, Gandhi said, while addressing an election rally in Chandrapur located in Vidarbha region. 
The rally, part of his campaign tour of Vidarbha for October 13 polls, was attended by an estimated 30,000 people. 
Even in 2009 Lok Sabha election, Opposition parties ignored the issues related to the poor and harped on terrorism issue, the young Congress MP said.  They were busy dividing the nation in the names of religion and region, rich and poor. The voters once again rejected their ideology, he remarked.
Gandhi said Congress believes in the ideology of uplift of the poor and farmers who are backbone of this country.
He brushed aside the criticism about his visits to the villages, saying they are intended to get a first hand account of the progress the country has made.
Listing out the schemes implemented by the Congress-led UPA government, Gandhi mentioned the Rs 71,000 crore farmer loan waiver and NREGA scheme among others.
A two-minute silence was observed to pay tributes to the 17 police personnel killed in a Maoist ambush in Gadchiroli district on Thursday. PTI