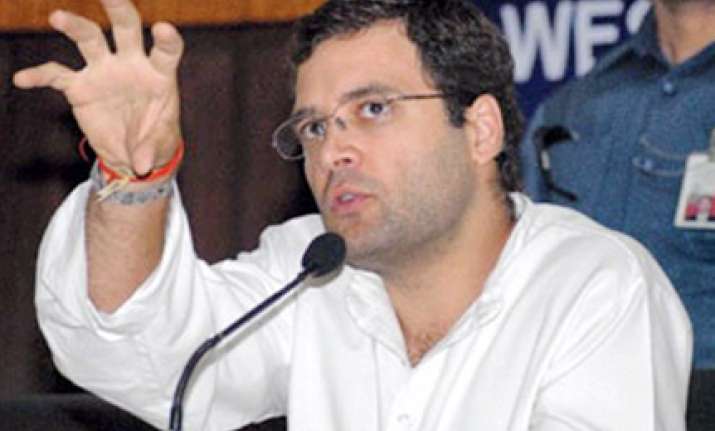 Getting tickets in elections or senior positions in a party through use of "high connection" is a "reality", Congress General Secretary Rahul Gandhi admitted in Shimla on Tuesday and said he was working towards ending this system in the Congress' youth wing.
"Yes, it is true in some cases people use high connections to get tickets in election and high posts in party," he told reporters. 
Gandhi, who arrived in Shimla on a day's tour said,  as in-charge of Youth Congress and NSUI, he was making efforts to end the system of nominations in favour of election of office bearers. "This (the change) cannot be done in one minute," he said, adding it was a gradual process.
Election of office bearers of the Youth Congress and NSUI is nearing completion in four states, including Punjab and Tamil Nadu, and the process is underway in other states, the Amethi MP said.
In Punjab, Rahul said almost 50 per cent of the district presidents of Youth Congress and NSUI are democratically elected, while it was 100 per cent at the block/panchayat level.
"In the next two years I hope the process (democratically elected office bearers in Youth Congress and NSUI) will be completed across the country," he added.
Rahul said he was making efforts to "wide open the doors of politics for youths not affiliated to any party".
"Through my action I wish to attract the youths, who are averse to politics, to join Congress to genuinely work for the betterment of the country," he said.  The young Gandhi was flanked by Union Minister Virbhadra Singh, leader of the opposition in HP assembly Vidya Stokes, PCC chief Kaul Singh Thakur and Congress Secretary and in-charge of NSUI Minakshi Natrajan.
For "total fairness" in the election process of the Youth Congress and the NSUI, we have roped in non-official organisation headed by former Chief Election Commissioner J Y Lyngdoh, Rahul said.
A person should not be over 35 years of age or have a criminal background or possess fundamentalist ideas can join Congress, he said.
On future plans, the AICC general secretary said democratically elected office bearers in the Congress youth wings would be subjected to "intense training programme".
"They will be taught about the party ideology, how to behave in the public and the reason why we are opposed to views of the opposition parties," he said, adding ultimately they would be send to their constituencies to spread these views among masses. PTI