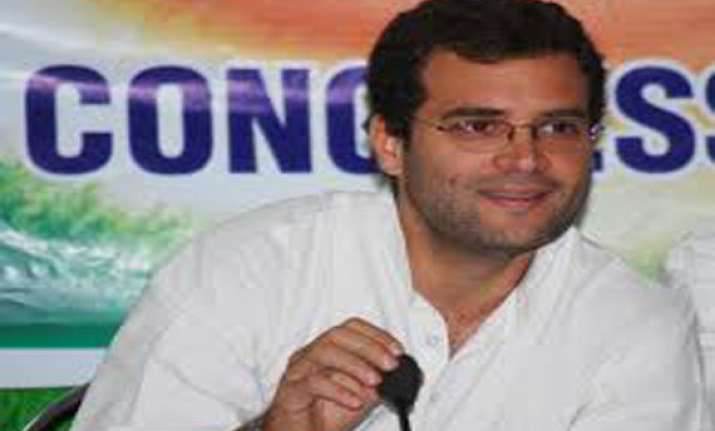 Mawkyrwat (Meghalaya), Feb 20: Congress vice president Rahul Gandhi Wednesday urged the youth to join politics to eradicate corruption and to improve the country.
"Corruption is an issue in the whole country and we have to ensure that we remove it from the political system. That is why it is so important that new young faces come into the political scene," he said addressing a party election rally here.
"I am in politics for many years but I am not happy with the way politics works. There are many things we can improve," Rahul Gandhi said.
He added: "If we really want to change politics, then we have to bring youngsters into the political system. Youngsters who are sensitive to the views of the common man, youngsters who feel the pain of the poor person, youngsters who suffer when they see a bad road, youngsters who suffer when they see that their people do not have the medical facility they need."
"It is only when we open the doors of politics, and bring in these youngsters, that politics will really change. And I see many of those youngsters in this ground and I want you to enter into the political system," he added.
Stating that Congress does not believe in favouring one community or one group of people, Rahul said: "We believe in helping everybody, in moving everybody together forward. If we want to really move this forward, if we want development, we need to think about empowering local government and the local people."
Praising Meghalaya Chief Minister Mukul Sangma, he said: "He is a hard working person and he thinks about the future of your state and you have your government in Delhi which is also a Congress government, which wants to support the growth of Meghalaya. I want both these governments to work together to bring massive developments to the state."
"There are large amounts of money sent from Delhi to the state, and we need to ensure that that money gets to the people. Rajiv Gandhi used to say that for every one rupee that is sent, 15 paise reached the last person. We need to change that so that our people can benefit."