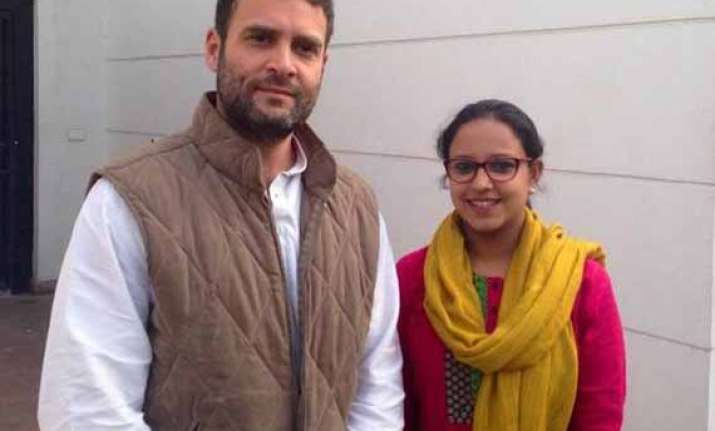 New Delhi: Congress vice-president Rahul Gandhi has promoted the "young face of Congress" Hasiba Amin as the national secretary of National Students Union of India, the students wing of the party. Till now, she was the NSUI Goa unit chief.
Hasiba Amin, whose face appears in Congress election ads, and whose voice is heard on FM radio ads, has acquired quite a following on Twitter and Facebook. She also has a large number of detractors from the rival political camps.
Expressing her gratitude, Hasiba Amin wrote on Facebook :
"I cannot begin to express how thankful I am to the entire NSUI family, especially Girish Sir and Rohitji for my appointment as National Secretary, NSUI. I feel honored on being trusted with such a big responsibility and promise to strive towards fulfilling my duties and responsibilities to the best of my potential.
"None of this would have been possible without the love, support and encouragement from my fellow colleagues who like family have always taken care of me and guided me.
"And lastly, words cannot express how thankful I am to my family and friends who have gone out of the way to support me and have backed every decision of mine without thinking a second time. Today if I am here, it is because of the love, faith and support of my family and friends." 
Hasiba Amin came into headlines when during the Tarun Tejpal sexual molestation episode in Goa, She filed a complaint with Goa Police crime branch, when social activist Madhu Kishwar unintentionally revealed the name of the victim on Twitter.