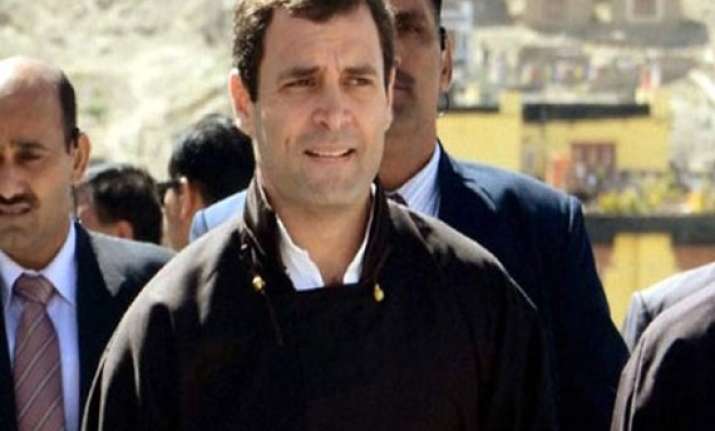 Cuttack, Feb 19: A day after interacting with grass root workers from western and southern Odisha, Congress Vice President Rahul Gandhi today held talks with leaders from other regions to discuss strategies to pull the party out of morass in the state ahead of the next general elections.
Soon after his arrival at the millennium city of Cuttack, Gandhi held deliberations with party functionaries and office bearers from 16 organisational districts as part of the exercise to bolster the prospects of Congress in the elections due next year.
The 42-year-old Gandhi, who is visiting Odisha for the first time after being elevated as the second in command in Congress, first interacted with district level workers and leaders on issues to be addressed to rejuvenate the party, out of power in the state since 2000.
"Rahulji's visit and his close interactions with grass root level leaders will go a long way in strengthening the party," said Odisha Pradesh Congress Committee (OPCC) President Niranjan Patnaik.
"Partymen are encouraged following Rahulji's visit. It will certainly strengthen Congress in Odisha," said senior party leader Chiranjib Biswal.
Describing Rahul's visit as significant for next polls, another leader said, "It will play a major role in reviving Congress and restoring confidence in partymen many of whom are demoralised after our defeat in three successive Assembly elections in the state."
Stating that Gandhi's meetings with grass root leaders were progressing smoothly, a senior leader said the Amethi MP is also slated to meet panchayat functionaries owing allegiance to Congress during his day-long programme here.
Rahul Gandhi is also likely to meet former and sitting MPs and MLAs of the party, besides attending a meeting of the extended executive committee of the party in Odisha, he said.
Before holding brain-storming sessions with leaders at Cuttack, the Gandhi scion took stock of the Congress position during his day-long programme at Sambalpur yesterday.
"The focus of Rahul's discussions with leaders at Sambalpur was on strengthening the party in Odisha. He held seven-hour-long marathon interaction with functionaries of 17 organisational districts," according to AICC General Secretary Shakeel Ahmed.
During his two-day Odisha visit, Rahul is taking feed back from grass root level leaders and discussing norms for selection of candidates, he said, besides obtaining opinions of partymen in this regard.
"Rahul is seeking suggestions from partymen on steps required to be taken to bolster the poll prospects of Congress," said another leader.