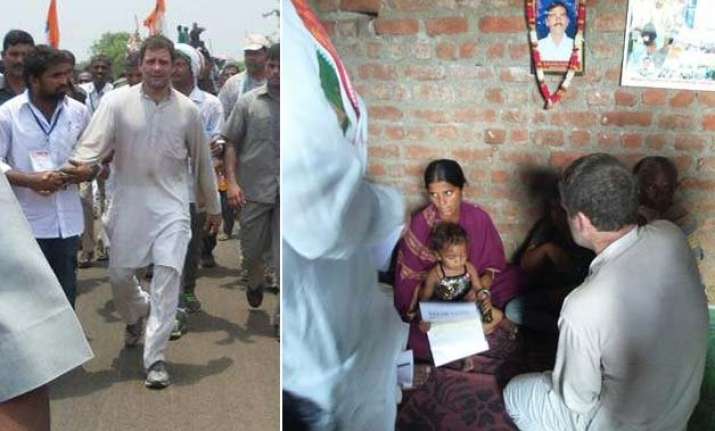 Nirmal (Telangana): Congress vice-president Rahul Gandhi today undertook 'padyatra' in Adilabad district of Telangana to console families of farmers who committed suicide due to financial distress.
Rahul launched his walkathon 'Kisan Sandesh Yatra' in morning from Koratikal village, about four km from here.
Clad in a white kurta-pyjama, the Gandhi-scion walked along with party leaders, including Congress general secretary Digvijay Singh and top functionaries of the party's Telangana unit.
He visited the house of Velma Rajeshwar, a farmer who committed suicide on May 2 following huge crop loss.
He also met the wife and children of the farmer and consoled them.
As the family members spoke in Telugu, Uttam Kumar Reddy, president of Congress party's Telangana unit, helped Rahul in comprehending the problems faced by them.
The Congress leader also provided financial assistance of Rs 1 lakh to the family.
He also visited the house of Bandla Linganna and consoled his widow and children. Sitting on the floor with the family members of the farmer, he enquired about their problems.
Linganna's wife told the Congress leader that her husband committed suicide following huge crop loss and the resultant inability to repay Rs 5 lakh in loans he had raised from private lenders. Rahul, who gave a cheque of Rs 2 lakh to the family, advised her to ensure proper education of all her three daughters.
Earlier, the Congress vice-president had undertook similar yatras in Punjab and Maharashtra.