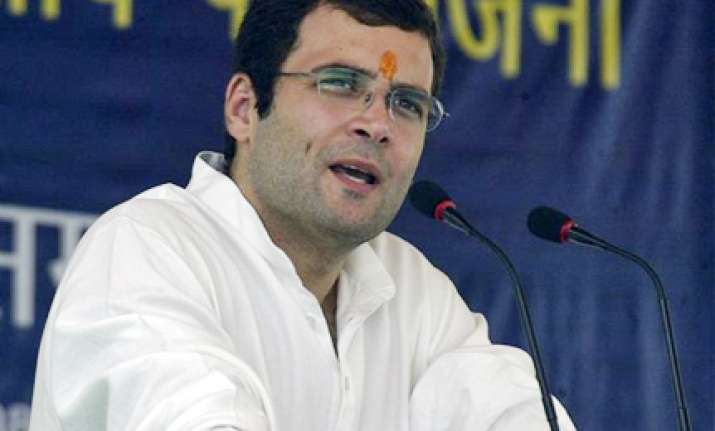 Congress leader Rahul Gandhi on Tuesday started his two-day campaign to promote the party's membership base in Rajasthan from Sawai Madhopur district.
Rahul is accompanied by state Chief Minister Ashok Gehlot, Union Minister for Rural Development and Panchayati Raj C P Joshi and MP Bhanwar Jitendra Singh. 
The AICC General Secretary addressed  a youth meeting in Sawai Madhopur and asked them to join the party. He went to Kota, Udaipur and Barmer.  He would address the youth in Jodhpur, Bikaner and Jaipur on Wednesday, besides holding meetings with party workers.
Addressing around 3,500 youngsters including IIT aspirants, who are preparing for the prestigious examination in Kota, Rahul asked them to join politics and play meaningful role in the development of the country.
 Addressing the students here at IL Auditorium Gandhi called upon them to join politics and play a meaningful role in the development of the country.
In a session with students, which lasted for over 40 minutes, AICC General Secretary was asked about his decision to marry, and on the demand of reservation to mentally challenged persons.
On a question on Indian Institute of Technology in Kota, Rahul referred to Chief Minister Ashok Gehlot, who said that Kota IIT was under consideration, Manjoor Tanwar a Youth Congress member from Kota said.
The AICC general secretary on a question to start e-voting in the country said that he would take up this issue with leaders in Delhi.
Responding on the trend of family members of politicians joining politics, Rahul said, "A formation of a committee by the Centre is under-consideration, which would look into such matters."
The 39-year-old scion of Gandhi family shied on replying whether his bride would be an Indian or foreigner.
 The AICC general secretary had to face the ire of his partymen, on irregularity and partiality in distribution of election tickets.
Displaying patience, Rahul said that Congress has now stopped the trend of making appointments and that the party officials at all levels would now be elected directly and only those who perform well for the party would get opportunity, Sharmesh Sharma, state secretary of NSUI said adding that Rahul had an interaction with youth Congress workers for over 20 minutes. PTI