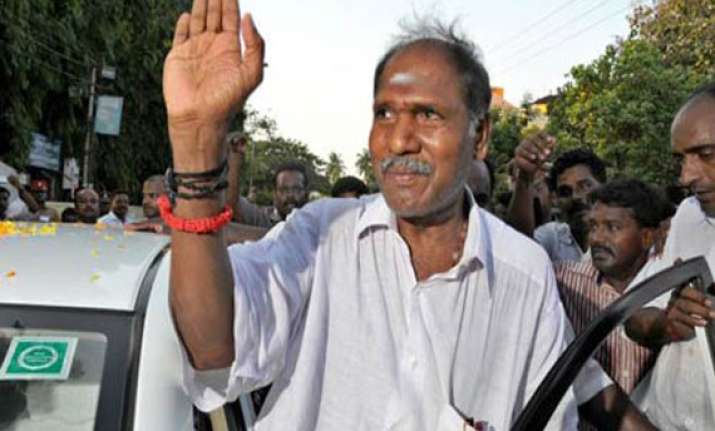 Puducherry, Feb 21: Puducherry Chief Minister N Rangasamy yesterday thanked his Tamil Nadu counterpart Jayalalithaa and the Centre after the notification of the Cauvery Water Dispute Tribunal's final award.
It would ensure availability of the quantum of inter-state river water allocated to Karaikal, part of the union territory, he said.
"I am grateful to the Centre and also to the Chief Minister Jayalalithaa as the notification would ensure availability of seven TMC feet of Cauvery water for the Union Territory of Puducherry which is among the riparian states covered by the award," he told a rally of the ruling AINRC, organised to press the Centre to grant statehood to Puducherry.
Hitting out at Minister of State in PMO V Narayanasamy for his "baseless and misleading allegations" that law and order had deteriorated in Puducherry, he said such outbursts would only scare tourists away from the place.
"I would be grateful to Narayanasamy if he could make a comparison between the situation during the previous (Congress) regime and now on the law and order situation," Rangasamy said while asking the Central Minister to clarify as to how many new projects he as a representative from Puducherry had brought to the Union Territory.
He also accused Narayanasamy of being behind the row over transfer of Finance Secretary.
"We wanted that such an official having an attitude to deny and delay proposals of the ministry should be replaced.
Even here Narayanasamy intervened and ensured that Puducherry Government faced struggle to implement welfare schemes by having the official in the post of Finance Secretary through Home Ministry," he said.
The Chief Secretary had also been transferred by the Centre without informing the Chief Minister, he alleged while making out a case for granting statehood to Puducherry.
He appealed to UPA Chairperson Sonia Gandhi to ensure that adequate funds were available to Puducherry for rehabilitation of farmers, fishers and others hit by the Thane cyclone, for promotion of tourism and for other developmentalprojects.
The rally adopted a resolution asking the Centre to sanction statehood to Puducherry.