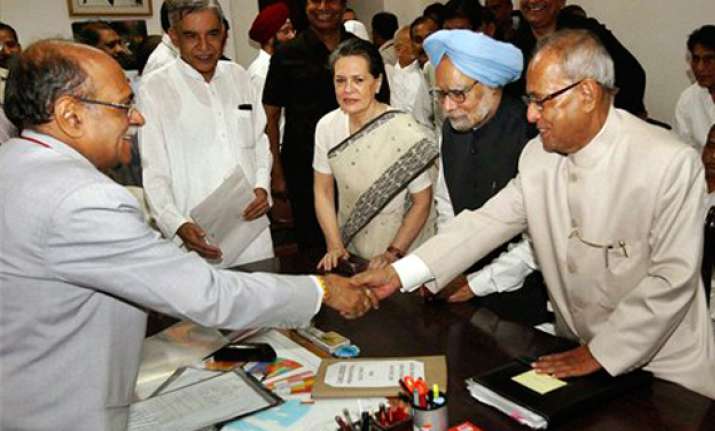 New Delhi, June 28: Stage was set for a contest between Pranab Mukherjee and P A Sangma with the two candidates today filing their nomination papers for the July 19 Presidential poll in which the UPA candidate seems headed for a runaway victory.
Both the UPA and opposition parties projected their strengths during the filing of the nomination papers in Parliament House with top leaders from the respective camps accompanying their candidates.
Mukherjee, the UPA candidate, was flanked by Prime Minister Manmohan Singh, Congress President Sonia Gandhi, SP chief Mulayam Singh Yadav and BSP leader Satish Chandra Mishra when he handed over his nomination papers to V K Agnihotri, Rajya Sabha Secretary General and Returning Officer for the Presidential election.
Nobody from NDA allies JD(U) and Shiv Sena as also CPI(M) was present even though they have committed support to Mukherjee.
More than two hours later, Sangma filed his nomination papers, with NDA Working Chairman L K Advani, Akali Dal chief Parkash Singh Badal, BJD President Naveen Patnaik and AIAMDK leader M Thambidurai being present.
Nominations can be filed till June 30 for election to the President whose electoral college comprises Members of Parliament, Legislative Assemblies and Councils. 
As per the support committed by parties to the respective candidates, Mukherjee is projected to get around 6.45 lakh votes in the electoral college of 10.98 lakh, way beyond the required 5,49,442 votes. Sangma is expected to get 3.12 lakh votes.
Soon after completing the nomination process, Mukherjee thanked parties like SP, BSP, JD(U), CPI-M, Shiv Sena and Forward Bloc for reposing faith in him and reached out to Trinamool Congress, the only UPA ally which has so far not supported his candidature.
"I seek the support of all those including Trinamool Congress, who have not yet decided...I only wish at this time that let me have the blessings of God and cooperation of all at this juncture," Mukherjee said.
"Those, who have already taken the decision to oppose me have every right to do so in a democracy," he said. 
He said he will start his campaign on June 30 and continue till July 15.
He is expected to visit Kolkata either on July 7 or 8 during which he is likely to meet Banerjee. 
Law Minister Salman Khurshid expressed hope that Banerjee will finally support Mukherjee's candidature.
"One should always be optimist in politics".
The first set of nomination papers was submitted by the Prime Minister and Sonia Gandhi. The second set was submitted by senior Congress leader Motilal Vora, while Mukherjee submitted the other two of the total four sets. 
The nomination papers were signed by as many as 486 MPs and MLAs, including Union Ministers, Chief Ministers, Congress Legislature Party leaders and PCC chiefs. 
The other leaders who accompanied Mukherjee were Rahul Gandhi, P Chidambaram, A K Antony, Vora and those of allies and other parties like Lalu Prasad, Ram Vilas Paswan, T R Baalu, Satish Chandra Mishra, Farooq Abdullah. Besides there were eight Chief Ministers of Congress-ruled states.  Mukherjee expressed his gratitude to the parties that supported him.
"UPA's nominee was endorsed by a large number political parties---parties like RJD, SP, BSP and Ram Vilas Paswan's LJP, who are supporting the UPA. But we have also received the support from other parties like Shiv Sena, JD-U, CPI-M and FB.  I am deeply grateful to all of them. I appreciate deeply the support which was extended to my candidature by others who are not part of the part of UPA," Mukherjee said. 
He also thanked the UPA Chairperson for suggesting his name for the 14the Presidential election.
"I am extremely honoured and feel humbled to get the opportunity to join the rank of those great stalwarts, who built modern India, gave an excellent Constitution and a multi-party democracy," Mukherjee said. 
The UPA nominee said he will begin his campaign from June 30 from Chennai. He will visit Hyderabad and Bangalore the next day.
Sangma, whose candidature was propped up by BJD and AIADMK and supported by BJP and some other NDA constituents, had three sets of papers filed in his support. 
Patnaik filed one set with 108 signatures in Sangma's favour, another set was filed by Tamil Nadu Chief Minister J Jayalalithaa with 120 signatures, while the third set was filed by Advani and Badal with 122 signatures of members of the electoral college.
Despite odds being against him in the contest, Sangma looked upbeat as he appealed to the electorate to vote according to their conscience and took potshots at Congress for not supporting his candidature.
He said Sonia Gandhi had not even given him an appointment for which he waited for three days.
"I only want to express that tribals in India have all along stood by Congress party. We had expected that Congress party would welcome and consider a tribal as its candidate," said Sangma, who had left Congress over the foreign origin issue of Sonia Gandhi.
"Many political parties have positively responded to our (Tribal Forum of India) request. But the largest political party with whom tribals have stood all along—the Indian National Congress—did not come out to support the cause of tribals. They will know the effect of this action," he said. 
The former Lok Sabha Speaker claimed tribals in India "are united today and we will move in future together with tribal unity which has never been seen before in India."