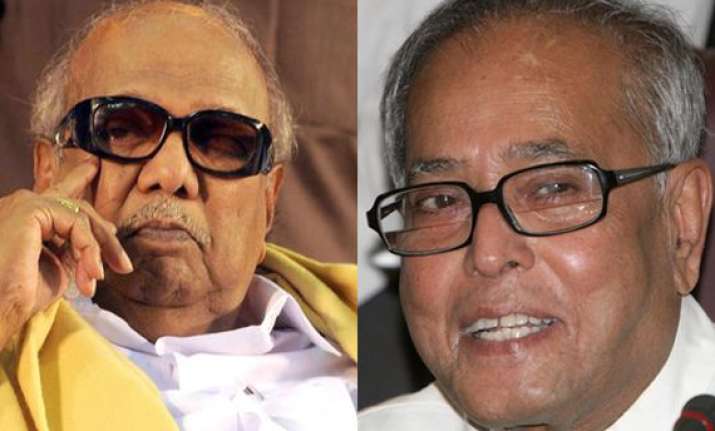 Chennai, Jun 15: Describing Finance Minister Pranab Mukherjee as the "most suitable" presidential candidate for his track-record and multi-dimensional personality, DMK chief M Karunanidhi today said his victory was a "foregone conclusion."
"I am personally happy because of our decades-old association and your love and affection for Tamils. On behalf of DMK, I wish you a very bright success. Your victory for the top post is a foregone conclusion," he said in a letter to Mukherjee after his nomination was officially announced by UPA Chairperson Sonia Gandhi.
Extending his "hearty congratulations," Karunanidhi described Mukherjee as the "most suitable candidate because of your long track record and multi-dimensional personality."
In a separate letter to Congress President Sonia Gandhi, the DMK leader said he was happy over Mukherjee's nomination.
Karunanidhi said Mukherjee has a long and varied experience in administration.
Describing him as a powerful negotiator and fearless orator, Karunanidhi said Mukherjee was a "great" economist and understood "very well" Indian economic conditions.
"The allies of UPA will enthusiastically welcome the announcement and ensure his victory which will be an important part of Indian history" he said.
Earlier, Gandhi and Prime Minister Manmohan Singh spoke to Karunanidhi over phone to inform him of UPA's decision and thanked him for his party's support, a DMK release said.
Meanwhile, speaking to reporters, Karunanidhi wondered how former President A P J Abdul Kalam's name came into the reckoning.
To a question on cabinet reshuffle, he said he had no expectations and it was upto the Centre to decide on portfolios and insisted that his party was not involved in any deal in return for its support for Mukherjee.
The DMK berths in the union cabinet, which had fallen vacant, are yet to be filled. A Raja and Dayanidi Maran had resigned following allegations in connection with the 2G spectrum allocation scam.
"We had not acted expecting all these and we don't trade our demands," Karunanidhi said when asked about reports suggesting that DMK will be handed over the Railway portfolio besides filling its own two vacancies.
Mukherjee's name had been proposed to him by Defence Minister A K Antony when he called on him here last month as an emissary of Sonia Gandhi, Karunanidhi said.
Asked if Mukherjee would be accorded a grand reception in Chennai like DMK had done for President Pratibha Patil following her nomination to the top post five years ago, he said he did not consider the Finance Minister would like such a big event but said his party will take steps.
His party had remained supportive of Congress on the presidential candidate, he said.
On Kalam's name figuring for the race, Karunanidhi said that during the end of the former President's tenure, when they met, he had showed no inclination for a second term.
"I am not aware how he had sought the post now," he said.
The DMK leader indicated his party will stand by Congress for Vice-Presidential election also.