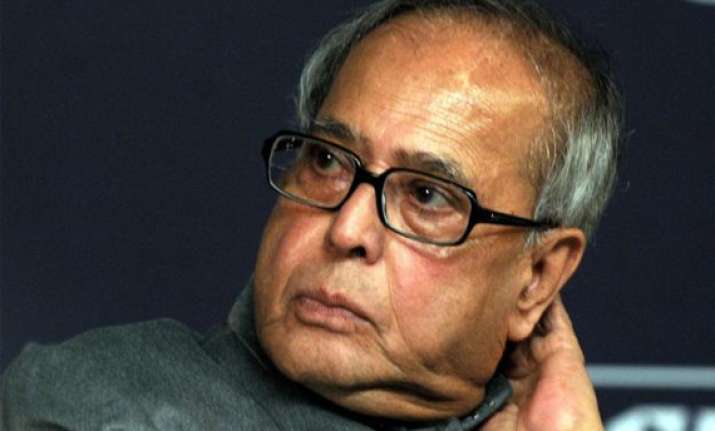 New Delhi, June 26: Set to file nomination papers for the Presidential poll, a sentimental Pranab Mukherjee today resigned as Finance Minister to "embark on a new journey", leaving behind his four-decade stint as a political activist.  
Mukherjee, the UPA candidate for the July 19 Presidential poll, submitted his resignation to Prime Minister Manmohan Singh, ending his over three-year stint in the Finance Ministry.
"I stand ready to embark on a new journey," said the 77-year-old veteran Congress leader as he left his North Block office to tender his resignation, profusely thanking the media and all others for their support.
Mukherjee, the Leader of the Lok Sabha who was the UPA government's trouble-shooter, is expected to file his nomination papers on Thursday.
The Finance portfolio is expected to be kept by the Prime Minister with himself for some time.
Mukherjee, whose tenure saw both highs and lows of the economy, left the Finance Ministry at a time when difficulties have only surmounted with the GDP growth on a downslide and value of rupee declining.
In his last message as the Finance Minister, he said he felt "honoured" and "humbled" on being nominated by UPA as a candidate to contest the Presidential election with support from SP, BSP, JD(U), Shiv Sena, CPI-M, Forward Bloc and some other parties.
One of the UPA constituents Trinamool Congress has so far not committed support to his candidature.
"Yet, standing on the brink of such an honour, I will also feel a pinch of sentiments at the thought of leaving behind my life as a political activist, spanning over four decades," he said reading out a statement.
Conscious that many of his decisions as the Finance Minister would not have been popular, Mukherjee said, "I know that not every decision which I have taken might have been right. But I have taken those decisions keeping in view the interest of the people whose faces appeared before me more than often."
He said the media has always reminded him of his responsibility, be it criticism or appreciation. "I hope this duty you will continue (to perform) so long I am in public life."
The outgoing Finance Minister, who would be virtually waylaid by the media to get his reactions on various aspects of the economy and other issues, said he would miss "not being stopped by all of you while getting into car or coming out of my car in front of my office in North Block".  After his resignation, the Prime Minister signed nomination papers in support of Mukherjee.