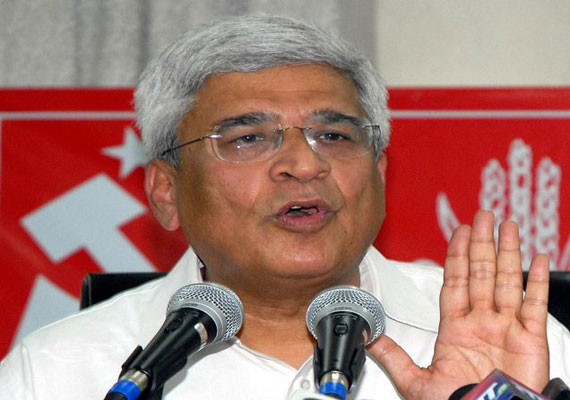 Hyderabad, July 25: Any probable 'Third Front' in national politics would emerge only after the next general elections in 2014 and not before the polls, CPI(M) General Secretary Prakash Karat said here on Wednesday.
"As of now, it is only after the elections that we see such a possibility emerging. But nothing is going to emerge before elections," he told reporters here after he was asked about any possibility of a third alternative emerging on the national political scene.
Replying to another query, he said Samajwadi Party Chief Mulayam Singh Yadav is of the view that a 'Third Front' may take shape only after the general elections.
Alleging that Congress and BJP followed the same "anti-people" economic policies, CPI Rajya Sabha member D Raja said alternative "pro-poor" policies are needed.
"Our electoral tactical line will be state-specific. We go for adjustments with those who are closely with us.
After elections, we will have to consider the verdict given by the people. There is a possibility for non-Congress, non-BJP parties to come together and provide an alternative," he said.
Charging that Congress has failed on all counts with the economy in a bad shape, unemployment as well as poverty rising, value of Rupee falling and the industrial sector slowing down, he said the ruling party will pay a price for its failures.
"Instead of reviewing its neo-liberal policies, the government depends upon foreign direct investments (FDI). Which FDI will come when your economy is so bad? Even if you open up your entire economy, we will not be able to get the expected FDI, because the economy is in bad shape. At the domestic level, the government will have to take corrective measures," he said. PTI