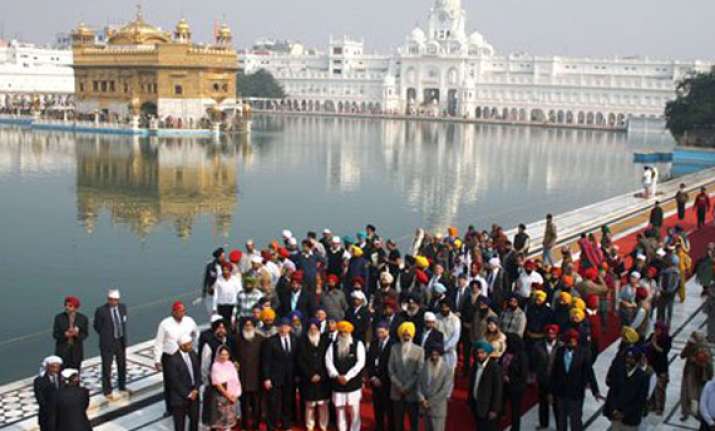 Chandigarh, Feb 23: When world leaders visit the Sikh holy city of Amritsar or Punjab, it is not religion but politics at the back of their minds. The holiest of Sikh shrines, Harmandar Sahib, better known as the Golden Temple, is the one stop that some of the world leaders must do on their visit to India.
The reason: countries like the US, Britain and Canada have a large population of migrants from Punjab, especially Sikhs. Many of them have done well in these countries and wield political clout and money power.
David Cameron became the first British prime minister to visit Amritsar this week. He not only offered prayers at the Golden Temple but also went on to express regret for the massacre of hundreds of innocent and unarmed Indians by British troops at the Jallianwala Bagh on April 13, 1919.
Cameron described the massacre as a "shameful" incident.
Canadian Prime Minister Stephen Harper was in Punjab in November last year. He offered prayers at Takht Keshgarh Sahib, another holy shrine of Sikhism at Anandpur Sahib, 85 km from here. It is the birthplace of the Khalsa Panth, the community of Sikhism.
Harper visited the Golden Temple in November 2009 and offered prayers. He spent nearly one hour inside the shrine complex. Harper took Hyderabad out of his itinerary to make sure he visited Amritsar.
Canada is home to a large population of immigrants from Punjab, especially Sikhs. A number of members of the Canadian parliament, ministers, officials and other influential people in that country have roots in Punjab. The Canadaian government in 2011 had announced that Punjabi would become one of the officially recognised languages in that country.
Punjab Chief Minister Parkash Singh Badal accompanied Cameron and Harper during their visits. The Sikh clergy have been rolling out red carpet for these high-profile visitors.
US President Barack Obama came close to visiting the Golden Temple in October 2010 during his official visit to India. His proposed visit, however, ran into a controversy over the headgear he would wear to enter the shrine. Under Sikh religious traditions, every devotee to the shrine has to have his head covered.
A White House security team, which visited Amritsar, was not in favour of Obama wearing the traditional scarf to cover his head during his visit to the Golden Temple. The scarf, they felt, may convey an image of him appearing to be a Muslim, an impression the Obama team wanted to avoid for political reasons back home. The visit was finally called off.
Sikh religious leaders said the doors of the shrine were open to him and he could wear any headgear, even a cap or hat, for his visit.
British monarch Queen Elizabeth II had also visited the shrine in 1997.