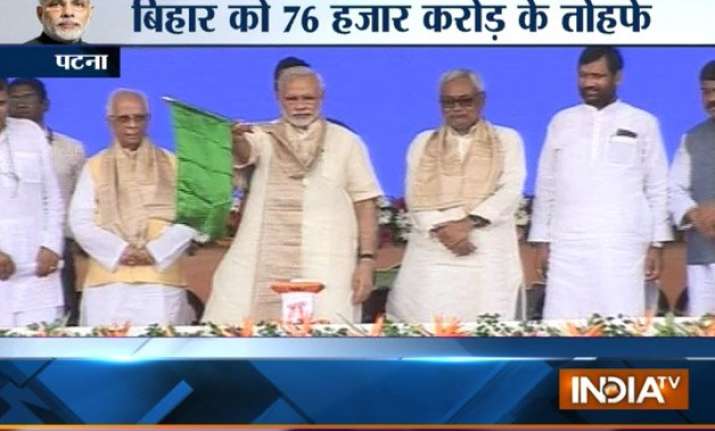 Patna: Prime Minister Narendra Modi is in Bihar today to kick start NDA's poll campaign for the upcoming assembly polls.
He is also scheduled to address a public rally in Muzaffarpur later in the day.
Here we are giving you Live Updates on PM Modi's Bihar visit:
* When I was Gujarat CM I had sent a team to USA to learn bloodless cataract surgery for cattle, it was sucessfully done: PM Modi
* Now the market for organic farming around the world is growing rapidly: PM Modi
* Globally honey production is a very huge market and it doesnt require a lot of effort to produce, big opportunity: PM Modi
* Can we mix 1% or 5% natural juice in aerated drinks? I can assure you then these fruits will never be wasted, farmers will benefit: PM Modi
* Our scientists are always engrossed in work: PM Modi
* PM Modi, Nitish Kumar together at ICAR foundation day function in Patna
* Agriculture Minister Radha Mohan Singh felicitates PM Modi at Shri Krishna Memorial Hall for Eastern Region event
* Union Minister Ram Vilas Paswan presents a madhubani painting to PM Modi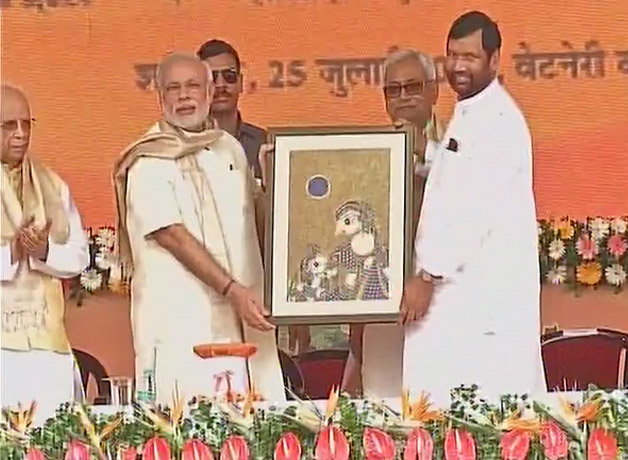 * I have invited scientists and experts here who will confabulate on how to bring about 2nd agri revolution: PM Modi
* If there is scope for a second green revolution in India then it is in the Eastern region of India: PM Modi
* But I assure you that what I promised will be fulfilled, I wont forget it: PM Modi
* I had promised 50,000 crores in Bihar package when I came here during election campaign. But I will do more: PM Modi
* Then I realize that to meet my hopes & dreams fro Bihar, that amount isnt enough. So I wont announce anything today: PM Modi
* Before elections I had said that a package of Rs. 50,000 crore will be given to Bihar: PM Modi
* As long as the eastern part of India is not developed our country cannot be prosperous: PM Modi
* With easy availability of gas, Bihar's economy can be revitalised: PM Modi
* Like a housewife turns on a tap for water, she will be able to turn on a tap for gas, this pipeline will enable that: PM Modi
* We already have Ganga, now we want to bring in 'Urjaa Ganga': PM Modi
* The way Nitishji praised Dharmendra Pradhanji, signifies the importance of pipeline for the region: PM Modi
* Nitishji is right, in coming days gas grid is as important as roads and rails: PM Modi
* Bihar has given maximum number of Railway Ministers to India: PM Modi
* If infrastructure isn't stressed we will fall back: PM Modi
* Infrastructure plays a vital role in development of a state: PM Modi
* The time is over when schemes were developed in Delhi, now those decisions need to be moulded by the states' requirements: PM Modi
* I agree with Nitishji, projects that started ages ago have been delayed. Because the government changed after Atalji's government: PM Modi
* I agree with Nitishji that if elections under Atalji had been held later then pending projects would have been completed: PM Modi
* State's development is must for overall growth, county's growth: PM Modi
* Development is key to every problem: PM Narendra Modi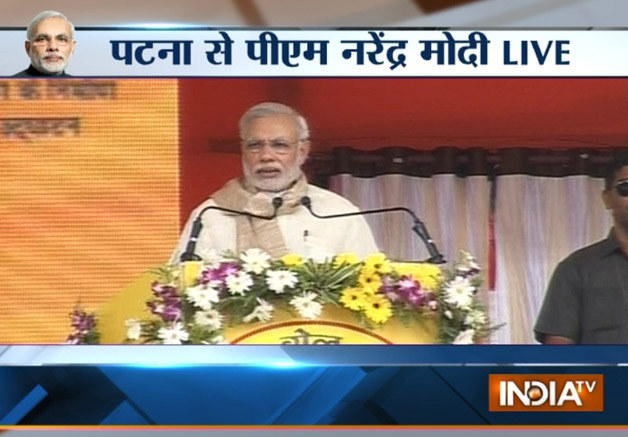 * I hop some schemes for the state which are pending with Central government should be assessed and sped up: Nitish Kumar
* When honourable PM was CM, I visited his state many times as Railway minister. Hope delayed rail projects are completed soon: Nitish Kumar
* Food agriculture engineering, aerospace engineering, architectural & planning, these are studies tht should be undertaken here: Nitish Kumar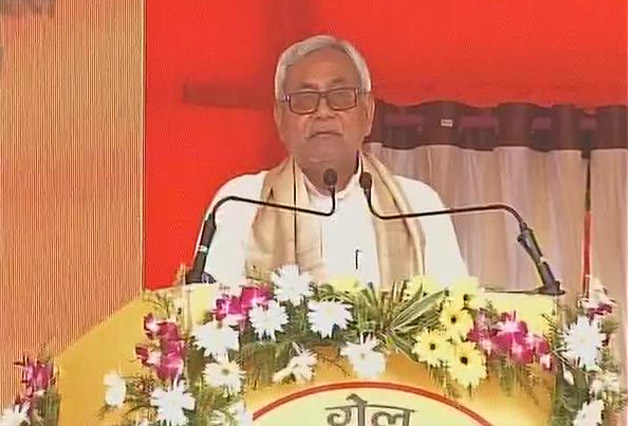 * I welcome Prime Minister who for the 1st time has come to Bihar as PM. I thank him for projects he has launched: Bihar CM Nitish Kumar
* PM Modi launches Jagdishpur-Haldia gas pipeline
* PM Modi launches an incubation centre for medical electronics
* PM Modi inaugurates new campus of IIT in Patna
* PM Modi flags off Patna-Mumbai Suvidha Express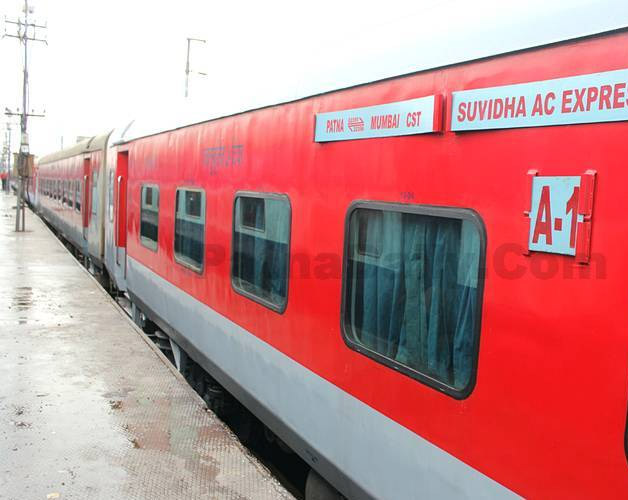 * PM Modi launches Daniyawa-Biharsharif Railway line
* PM Narendra Modi launches Deen Dayal Upadhyaya Gram Jyoti Yojana (DDUGJY) in Patna
* PM Modi and Bihar CM Nitish are sharing dais at an official function at the Veterinary College Ground in Sheikhpura
* Bihar CM Nitish Kumar welcomes PM Modi at the airport
* PM Modi arrives at Patna airport
Meanwhile, police has arrested four suspected persons from Muzaffarpur this morning ahead of Modi's rally.