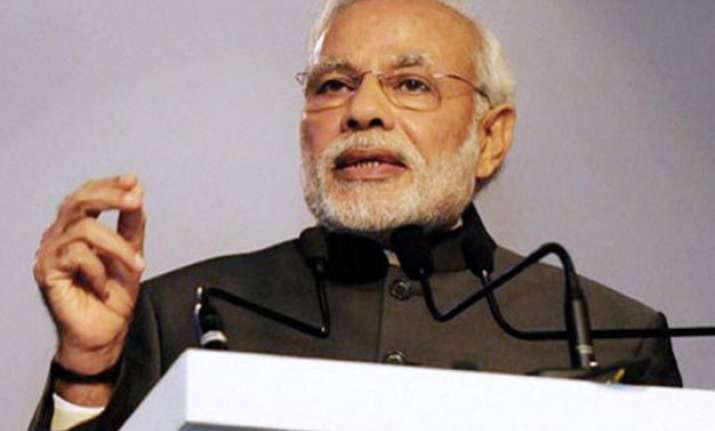 New Delhi: As part of government's efforts to create a large pool of skilled workforce required to sustain 'Make in India' initiative, Prime Minister Narendra Modi on July 15 will launch the National Skill Development Mission.
The Prime Minister will also unveil the new National Policy for Skill Development & Entrepreneurship on the very same day to mark the World Youth Skills Day.
"July 15 is the national launch of the Skill Mission by Prime Minister and the national policy, in partnership with various ministries," Union Minister for Skills Development & Entrepreneurship Rajiv Pratap Rudy said.
Asked whether industry leaders will also be a part of the event, Rudy replied in the affirmative.
Earlier this month, the Union Cabinet chaired by the Prime Minister had cleared an institutional framework for the National Skills Mission, and also approved the first integrated national policy for developing skills and promoting entrepreneurship.
The mission will have a three-tiered, high powered decision making structure, with its governing council being chaired by the Prime Minister.
 
Besides, the Ministry of Skill Development and Entrepreneurship (MSDE) today joined hands with the Ministry of Chemicals and Fertilizers (MCF) to address the incremental human resource requirement in the petrochemicals, fertilizers and pharmaceutical industry by imparting skills training.
"1.1 crore employee force is there in chemicals, petrochemicals, pharmaceuticals and fertilisers together. We require skill development training, skill upgradation, in-service training. 80 per cent of this workforce is unskilled therefore it has to be trained," Union Chemicals and Fertilizers Minister Ananth Kumar said.
"The incremental requirement in chemical sector by 2022 is about 1 million extra manpower. In petrochemicals, we require about 99,000 additional skilled manpower, in pharmaceuticals we require 35 lakh," Rudy said.
He further said that 80 per cent of the existing workforce, which does not have any formal certification, would be trained under the Pradhan Mantri Kaushal Vikas Yojana.
"Besides, we are also going to do 'Recognition of Prior Learning (RPL)' for around 5 lakh working in the mines and coal sector," Rudy added.
As part of the three agreements signed, MSDE will set standards and quality assurance process to facilitate implementation of any of the projects agreed under the MoU.
It will also ensure identification of relevant Job Roles and National Occupational Standards, which will be aligned with National Skills Qualification Framework levels as per the demand for the three industries.
 
This will ensure standardised training delivery through ITIs/ATIs/RVTIs and selected NSDC training partners for the industry.
Rudy invited the industry to come forward to fund the skilling intitiative for the chemical, petrochemical, fertilizer and pharmaceutical sectors.