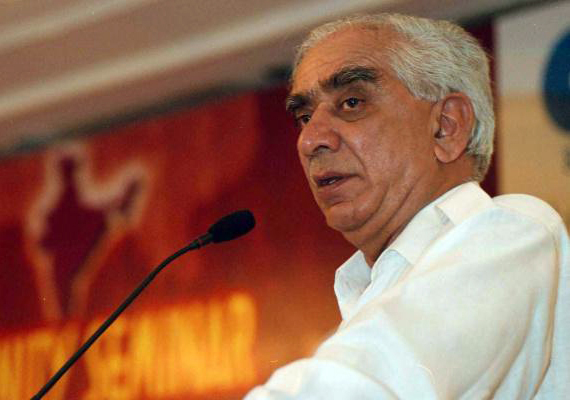 New Delhi, Aug 27:  Criticising Prime Minister Manmohan Singh for making a statement on the CAG report on coal block allocation in Lok Sabha, BJP today said it will continue to demand his resignation and boycott the "corrupt" government in Parliament.
"Personally, I think for any minister or anybody to make a statement on the CAG report inside the House is wrong. Its absolutely wrong. Because the only forum in which the CAG report can be discussed is the Public Accounts Committee," BJP leader Jaswant Singh told reporters outside Parliament House.  
BJP spokesperson Rajiv Pratap Rudy said his party is not going to take things lying down anymore on this issue and will continue to press for the Prime Minister's resignation as it has already extended enough opportunities to him in the last eight years.
"This is a corrupt government," Rudy said. He maintained that BJP will not allow the forum of Parliament to be used to "legitimise corruption".
BJP spokesperson
Prakash Javadekar
expressed disappointment with Singh's statement.  "The country is upset with the Prime Minister's statement. It is not a statement but a list of points of excuses. He is hiding the facts," he said.  Javadekar alleged that Singh has accepted his role in coal allotments.
"He has said one thing correct that he is wholly responsible for the decision and that is why we are saying he has allotted and has put his stamp of approval on every coal block allotment. There are wrong-doings and so he is responsible and that is why he must resign," he said.
Meanwhile, senior BJP leader and former deputy chairman of Rajya Sabha Najma Heptullah said the Prime Minister's statement should not be considered by Parliament as there was no "order" in both the Houses when they were laid. 
"According to me no statement was made today. When the House is not in order, the proceeding is not on record", she told reporters outside Parliament. 
"I have been deputy chairman for 18-19 years. I have said this repeatedly and today also I told the deputy chairman that...it is a rule, a convention and a record that if House is not in order, than no proceeding should not come to record," she said to buttress her point. 
Further, she accused the government of adopting two yardsticks as it allowed former telecom minister A Raja to resign following CAG report on 2G allocation but is shielding the prime minister on the coal allocation scam.