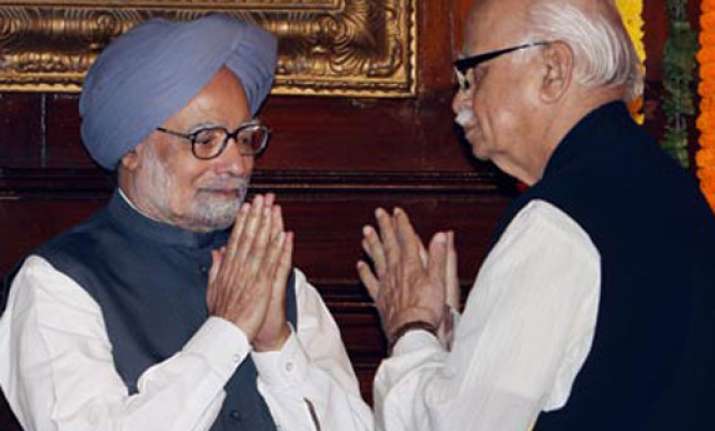 New Delhi, Nov 21: With the Lok Sabha Speaker's all-party meeting failing to break the logjam on FDI in retail issue, Prime Minister Manmohan Singh has invited the top brass of main Opposition BJP for a dinner tomorrow to ensure smooth functioning of Parliament in the winter session.
Singh had invited BJP Parliamentary Party Chief L K Advani, Leader of the Opposition in Lok Sabha Sushma Swaraj and her Rajya Sabha counterpart Arun Jaitley for a dinner on November 17 in his bid to reach out to the party.
But the dinner was cancelled by the PM at Swaraj's request in the wake of Shiv Sena supremo Bal Thackeray's death.
The three BJP leaders have been invited again for the dinner tomorrow at the PM's residence.
Singh, who returned from Cambodia late last night, kept away from Speaker Meira Kumar's all-party meeting today afternoon as he was tired after the hectic foreign visit, PMO sources said.
Government has made all efforts to ensure it has the required numbers in the Lok Sabha by reaching out to its allies and parties supporting it from outside. Singh has held dinner and luncheon meetings with allies DMK and NCP as well as outside supporters SP and BSP.
Though Trinamool Congress is still threatening to move a no-confidence motion inspite of clear indications from BJP and the Left as also other opposition parties that they will not support it, the government can face embarassment on FDI in multi-brand retail issue.
Almost the entire opposition appears to be united in pressing for a debate and voting on the issue, while the government is not in agreement.
Government is hopeful of finding a way out for smooth running of the Parliament session at tomorrow's dinner with the principle opposition.