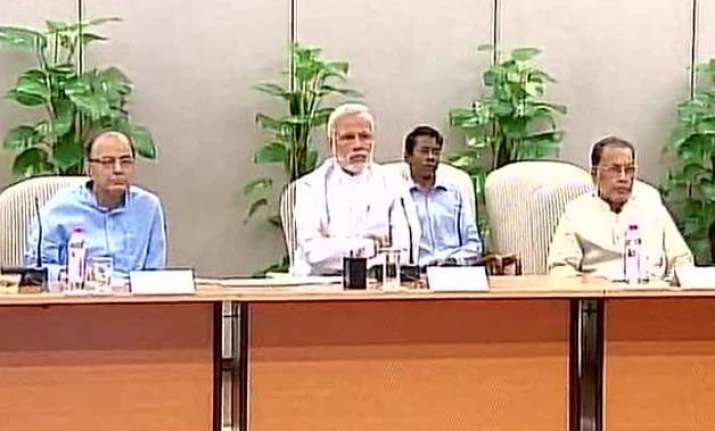 New Delhi: Prime Minister Narendra Modi today favoured raising sugar exports to liquidate surplus stocks because of low domestic demand that has led to a huge cane arrears of over Rs 14,000 crore to farmers.
Modi chaired a meeting of ministers and officials to review issues related to the sugar sector where he called for increasing the ethanol-blending with petrol.
"Taking note of the current supply-demand issues with regard to sugar, the Prime Minister called for assiduous efforts to increase ethanol blending of fuel. He also called for exploring all possibilities for export of sugar," a PMO statement said after the meeting.
Sugar industry, which owes about Rs 14,398 crore to cane farmers, is unable to make payment as it is facing severe liquidity crunch on account of surplus production that has resulted in low prices of sugar in the domestic market.
Finance Minister Arun Jaitley, Agriculture Minister Radha Mohan Singh, Food Minister Ram Vilas Paswan and Commerce Minister Nirmala Sitharaman, among others, participated in the meeting.
"The Prime Minister emphasised that the farmers' interest be kept foremost at all times, and issues related to sugar sector be monitored regularly. Long-term measures with regard to the sector were also discussed," the statement said.
Modi also reviewed the progress with regard to the Rs 6,000 crore incentive package approved by the government in June 2015 to enable sugar mills clear cane arrears to farmers.
Ex-mill sugar prices have fallen to below Rs 20/kg in the country, while the cost of production is over Rs 30/kg. There is still surplus stock of 10 million tonnes in the country.
Sugar production of India, the world's second largest producer and biggest consumer, is estimated at record 28.3 million tonnes in 2014-15 marketing year (October-September), as against 24.3 million tonnes in the previous year. The total annual demand is pegged at 24.5 million tonnes.
Senior officers from the Ministries of Agriculture, Food and Consumer Affairs, Finance, Commerce, External Affairs, Petroleum and Natural Gas, besides NITI Aayog and PMO, were also present in the meeting.
Food ministry is believed to have proposed various short and long term measures to overcome the crisis that includes mandatory higher exports, increased ethanol (bye-product of sugarcane) blending with petrol and expansion of co-generation power capacity.