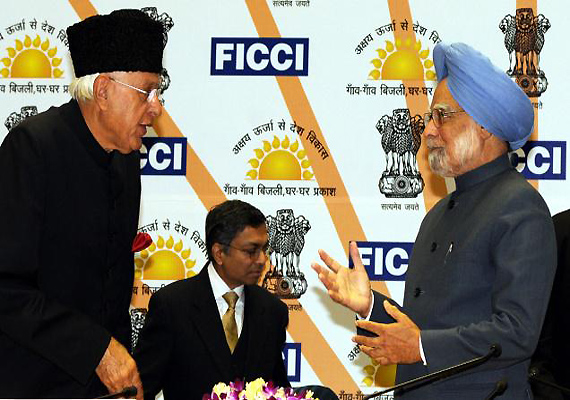 Jammu, Feb 22: Union Minister for New and Renewable Energy Farooq Abdullah today said Prime Minister Manmohan Singh and Union Home Minister P Chidambaran have no intention of curtailing powers or eroding the authority of states by forming an anti-terror body.

"I do not feel that Chidambaran or Prime Minister have any such intention that they would curtail the powers of the State or eroda it", the National Conference Chief said.  "The Prime Minister has also written to Chief Ministers of states—they will soon hold a meeting—which will discuss the issue," Abdullah told reporters here.

Abdullah, whose NC is a coalition partner of the Congress-led UPA government at the Centre and NC-led coalition government in Jammu and Kashmir, was replying to the questions on National Counter Terrorism Centre (NCTC) and whether it was a mistake by the UPA government.

"Some time errors (Bhool) do take place, I do not think there was deliberate intention by the Centre to erode the authority of state," Abdullah said.

"There is little bit error (bhool). Chief Ministers of the various states should have been called and talks should have been held with them."

"I think they are going to correct the error (Bhool). The PM has also written to Chief Ministers in this direction," he said.

Earlier, on February 18, Abdullah had said that Union Home Minister P Chidambaram will have to explain his position on the Centre's plan of creation of a National Counter Terrorism Centre (NCTC) to the Chief Ministers. 

"In that (matter related to the security of the country), nothing must be done which will infringe the federal structure of the country," he had said.

Jammu and Kashmir Chief Minister Omar Abdullah had yesterday favoured Centre-state consultations to put at rest any controversy over setting up of National Counter-Terrorism Centre (NCTC).

"There has been no discussion between state government and the central government on the issue of NCTC. I do not think it would be appropriate as Chief Minister for me to publicly comment about it, before I privately share the feelings of the state government with the Union government on this crucial issue," Omar told reporters on sidelines of a function here, 20km from Srinagar.

He said consultation between the Centre and the states was essential to put at rest the controversy surrounding NCTC. 

Meanwhile, Farooq Abdullah also said that terrorism is dangerous for the security of the country and unless, states do not cooperate, we can not control terrorism.  "To control terrorism, states and Centre should work together," he said.