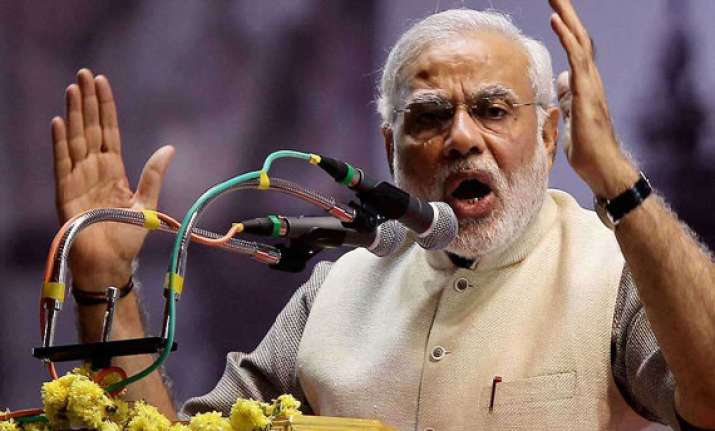 Kochi: Narendra Modi today accused Congress of following a divide and rule policy for the last 60 years and recalled the setting up of a Commission on Religious and Linguistic Minorities by its government as an instrument to "sow the seeds of poison".
Wooing the Dalits and backward classes at a public meeting here, Modi also alleged there has been a "conspiracy" to snatch the rights given to the community by B R Ambedkar against the backdrop of suggestion by Congress leader Janardan Dwivedi for ending caste-based reservation.
The BJP Prime Ministerial candidate called himself "victim of untouchability", saying Cochin city mayor Tony Chammany did not attend the meeting though his name was among those listed on the invitation card.
"I continue to be a victim of untouchability," he said.
Alleging that Congress had sought to make gains by dividing the society by sowing 'poisonous seeds", he said the dalits, adivasis and backward classes would have a decisive say if his party was voted to power. There would be a "change of government" at the Centre within 100 days after which this would be brought to an end, he added.
Modi promised that once he comes to power at the Centre, he would like to do something for his "family", pointing towards the crowd at the meeting. "The forthcoming decade will belong to the members of the marginalised community."
"For the past 60 years, people have indulged in vote bank politics to divide and rule. This has led to our division and fragmentation. They are experts in zeher ki kheti. The Ranganath Mishra Commission was set up to sow the seeds of poison," he told the meeting organised by the Kerala Pulayar Maha Sabha (KPMS), an outfit of a prominent Scheduled Caste community.
The Ranganath Misra Commission was constituted by the UPA government on October 29. 2004 to look into various issues related to Linguistic and Religious minorities.