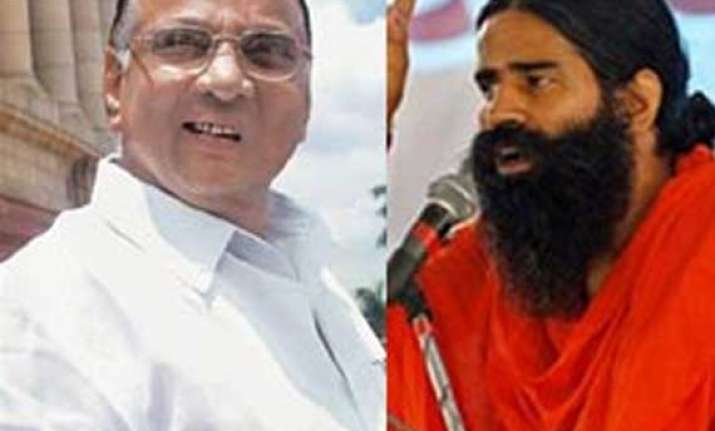 New Delhi, Jun 5: Welcoming Ramdev's campaign against black money, NCP chief Sharad Pawar tonight said the yoga guru's suggestions to tackle the menace were "pragmatic". 
Pawar's remarks came after an hour-long meeting with Ramdev here during which the two discussed ways to unearth black money and enact laws that make stashing of cash impossible.
"Ramdev made suggestions like enacting such tax laws that do not make a person necessary to hide his wealth. Such wealth can be used for various development purposes," Pawar told reporters after meeting the yoga guru.
The Union Minister said he did not "smell politics" in Ramdev's campaign as he has announced that he will meet leaders of all political parties ranging from Congress chief Sonia Gandhi, CPI(M) general secretary Prakash Karat to AIADMK supremo Jayalalithaa and SP chief Mulayam Singh Yadav. 
"He (Ramdev) has said he will meet responsible leaders in all the states and important persons who take key decisions.  He has done one good thing that he has not spoken of any one party. He has talked about all parties and we liked this approach," Pawar said.
Pawar is among the 15 Union Ministers against whom Team
Anna has leveled allegations of corruptions. Pawar said there was a need for everyone to examine how to adopt the path suggested by Ramdev and move forward.  The Agriculture Minister said Ramdev made certain suggestions on changing tax laws.
He said the funds collected by the government through taxes was not enough to carry out development works as desired and hidden money can help in this regard.
"When this hidden money will come out, it will benefit all and help change the life of the common man," Pawar said.  Pawar said he first met Ramdev five-six years back at a yoga camp he had organised in his hometown.
He said that he was impressed by Ramdev's ability to influence people and promote ancient Indian practices like yoga.  Ramdev said he made seven suggestions to Pawar and contended that the black money, if recovered, could help in stabilising the Rupee, arrest the slide in economic growth and even allow 30-50 per cent cut in petrol prices.  Ramdev had met BJP President
Nitin Gadkari
yesterday.