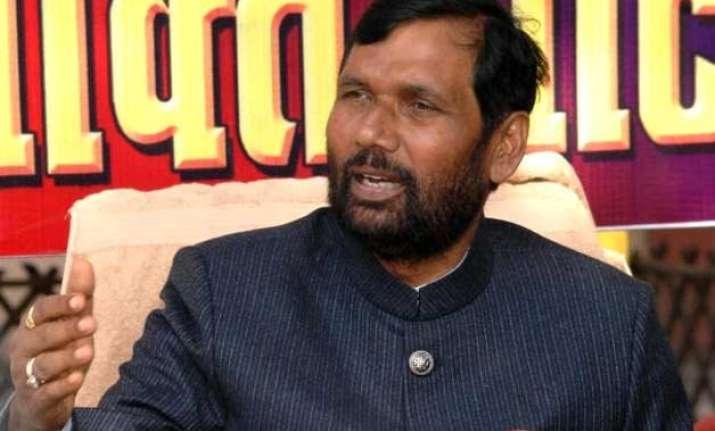 Patna:  Amid speculations over the possible ouster of Jitan Ram Manjhi as the Chief Minister, Union Minister Ramvilas Paswan today advised him to resign in view of sustained "humiliation".
"Manjhi shall resign in view of sustained humiliation at the hands of JD(U) leaders close to Nitish Kumar," Paswan told reporters while reacting to speculations on the fate of the Bihar Chief Minister.
The Lok Janshakti Party (LJP) chief attacked former Bihar Chief Minister Nitish Kumar, saying that he is interested in winning votes of Dalits and Mahadalits but has no respect for them.
"To win votes of weaker sections, Kumar constituted Mahadalit Commission during his tenure as CM. After resigning, he handpicked Jitan Ram Manjhi as a puppet to show his love for poor," Paswan said.
"But the truth is that Manjhi never had power which continued to rest with Nitish Kumar," he said.  The LJP chief said another reason for replacing Manjhi could be to "accomodate" close aides of Lalu Prasad Yadav in the ministry after joining hands with RJD.  
Paswan said there was no possibility of merger of splinter parties in old Janata Parivar at national level.  "There might be a merger of JD(U) and RJD in Bihar for survival of Lalu Prasad and Nitish Kumar who are losing ground," he said.
The Union Minister said there would be no impact of Lalu Prasad Yadav and Nitish Kumar coming together on upcoming Bihar poll.
"Results of Jharkhand election where RJD, JD(U) drew blank have shown the trend which would be repeated in Bihar too," Paswan said.
Describing JD(U) as a "sinking ship", he said that his party would not accept former LJP MLAs who had joined Nitish Kumar.
Present Agriculture Minister Narendra Singh had led exodus of nearly two dozen MLAs from LJP to JD(U) in 2005.