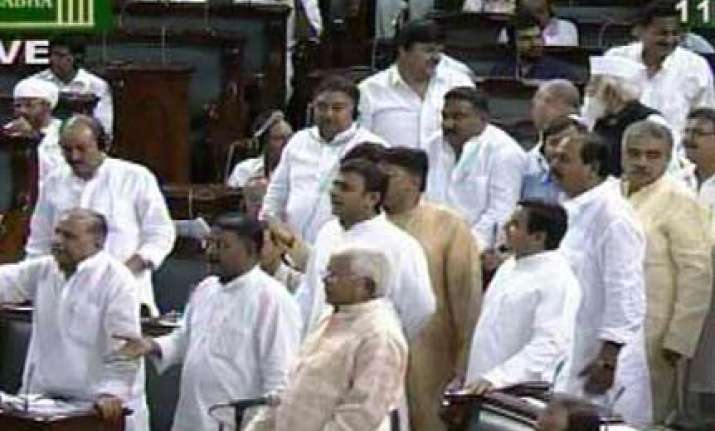 New Delhi: Parliament on Tuesday  passed the much talked about bill to hike salaries of MPs by over three times from Rs 16,000 to Rs 50,000 and doubling two of their key allowances to Rs 40,000 each with the Rajya Sabha approving the measure. The Salary, Allowance and Pension of Members of Parliament (Amendment) Bill, 2010, has already been passed by the Lok Sabha.  
During the debate on the bill in the Upper House, a strong demand was made for setting up an independent body to decide on their future pay.  
As many as 10 members participated in the discussion and the demand for such a body was voiced by Leader of the Opposition Arun Jaitley, who was supported by other members.  
Replying to the debate, Parliamentary Affairs Minister Pawan Kumar Bansal said, "There is a need for setting up a mechanism to decide the members' salary and pension. But wider discussions are required for that and I will come back to the House at an appropriate time." The bill proposes to raise the daily allowance of members from Rs 1,000 to Rs 2,000 and constituency and office expense allowances each from Rs 20,000 to Rs 40,000.  
It seeks to enhance pension of former MPs from Rs 8,000 to Rs 20,000 with effect from the constitution of the present Lok Sabha on May 18 last year.  
The Joint Committee on Salaries and Allowances of MPs headed by Congress member Charandas Mahant had recommended a hike in salary from Rs 16,000 to Rs 80,001 -- one rupee more than that of the Secretary to the Government of India.
Bansal said, "We should not compare pension of MPs with government servants as they serve for 30-odd years. Whereas MPs have a term of one-two years or maximum five years." As the House took up the Bill for discussion, the Left parties protested and later their members staged a walkout.  
D Raja (CPI) said, "In the absence of an independent mechanism, MPs themselves deciding their salaries is not justified and hence we walk out." After the Left parties staged a walkout, the minister said, "If they don't want to take their salaries, it is their personal choice." PTI