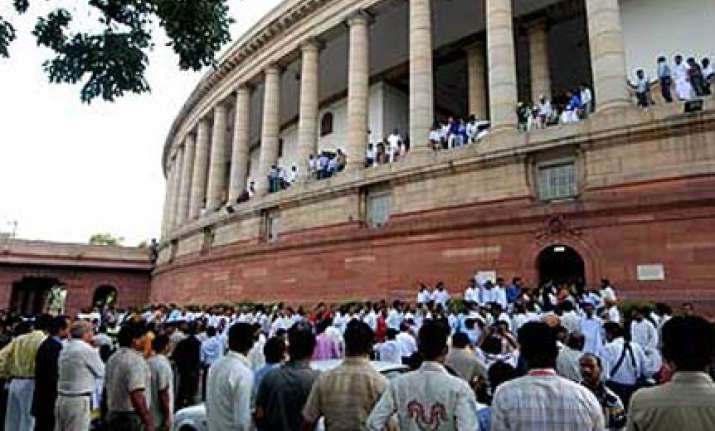 New Delhi : In a breakthrough, the Government on Tuesday cut a deal with the BJP and other Opposition parties barring the Left to arrive at a consensus on the Nuclear Liability Bill that will undergo changes including a three- fold hike in the compensation cap to Rs 1,500 crore.
 A Parliamentary committee looking into the controversial legislation recommended the hike and addressed most of the other concerns of the opposition parties except Left which gave a dissent note.
 The Standing Committee on Science and Technology, which finalised its report on Civil Liability for Nuclear Damage Bill 2010 that will be tabled in Parliament tomorrow, also addressed concerns over the liability of foreign supplies, which the Opposition parties were apprehending could go scot-free in the event of an accident.
 A breakthrough in bridging the differences between the ruling and opposition members of the Committee was achieved when Finance Minister Pranab Mukherjee, who is also the Leader of the House in the Lok Sabha, conveyed to BJP leaders the government's readiness to address major concerns.
 Along with BJP, other opposition parties, including Samajwadi Party, JD(U), RJD, MDMK, NCP and NC were on board over the report.
BJP's support is crucial for Government in the Rajya Sabha where it does not have a majority.
However, CPI(M), CPI and Forward Bloc did not agree with certain parts of the reports and gave a dissenting note.
The Committee recommended raising of the compensation cap from Rs 500 crore, as provided in the original bill, to Rs 1,500 crore or "such other enhanced amount notified by the government from time to time".
It is also understood that the amended Bill will makeit clear that the operator in the nuclear sector will be Government and not private.
The Committee suggested incoporation of a provision 'latent' or 'patent defect in equipment' in the Clause 17(B) which provides for liability in case of a nuclear accident, sources said.
A provision for 'wilful default' and 'negligence' on the part of the supplier has also been added in the Clause 17(B).
These provisions, which can make even the suppliers liable for any accident, are aimed at addressing some of the main concerns of the opposition parties which have been fearing that the proposed law would allow the foreign suppliers to go scot-free.
In case of a mishap, an operator would have to pay the compensation upfront and then it can settle its liability with the supplier bilaterally, sources said.
BJP, which had initially wanted no mention of a cap in the proposed legislation, settled for the increased amount because of the provision for government notification if required.
Among other amendments recommended is the provision for extending to 20 years the period during which victims can claim damages from 10 years from the time of a nuclear incident as proposed in the original bill, the source said.
A mention of Convention on Supplementary Compensation (CSC) will be removed from the Statement of Objects and Reasons and will find place in an indirect manner in the form of 'as and when required, India can join international conventions under the aegis of IAEA'. PTI