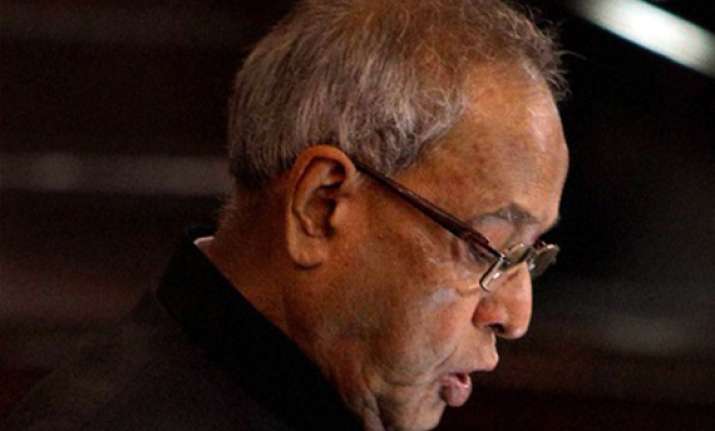 New Delhi, Feb 21: Against the backdrop of the beheading of an Indian soldier on the LoC, President Pranab Mukherjee today said Pakistan should desist from acts that contribute to "trust deficit".
In his address to the joint sitting of Parliament, he said, "With Pakistan, we have made progress towards normalisation of relations, strengthening mechanism for bilateral trade and facilitating greater people-to-people contact".
The President said while India remains committed to taking the process forward, "it is also important that Pakistan abides by its commitments and desists from acts that contribute to a trust deficit".
Pakistan Army regulars had infiltrated inside Indian territory in Poonch sector of Jammu and Kashmir and killed and mutilated the bodies of Lance Naiks Sudhakar Singh and Hemraj on January eight.
The President prefaced his remarks by saying that India continues to seek peace, stability, cooperation and economic development in the sub-continent. "We attach the highest priority to relations with our immediate neighbours".
He also made it clear that as Afghanistan prepares for a political and security transition in 2014 and beyond, "we will continue to help Afghanistan evolve peacefully and fight terrorism and extremism".
On China, the President said his government intends to work with the new Chinese leadership to reinforce the positive direction of the bilateral relationship.
"My government's foreign policy continues to be driven by the objectives of creating an enabling environment for our national development, ensuring the security of the nation and fulfilling our international responsibilities", he said.
As regards to Sri Lanka, he said, "We are making efforts in our engagement with Sri Lanka, including in our efforts to resettle and rehabilitate the internally displaced persons there and to ensure a life of peace, dignity and equality for the Tamil people".
As regards Bangladesh, the President said government proposes to introduce a Constitutional Amendment Bill in Parliament to give effect to provisions of the Land Boundary Agreement with the neighbouring country and its 2011 Protocol, which will strengthen border management and the country's security.
Noting that the Strategic Partnership with the US has deepened with progress across all areas of the relationship, he said, "We look forward to intensifying this engagement during the second term of President Obama".
He said India's multi-faceted relationship with Japan, which is also a major partner in the country's infrastructure development efforts, is making good progress.
The "privileged and strategic" partnership India has built with Russia received a further boost during the visit of President Vladimir Putin in December last year.
Mukherjee said India's traditionally strong relations with Europe will continue to develop. "The visit of President Francois Hollande to Delhi in Feb 2013, his first Asian destination as President, will further strengthen our friendship and broad-based strategic cooperation with France".
As a non-permanent member of the UN Security Council during the last two years, India played an important role in the Council's efforts to promote international peace and security.
"We intensified efforts to generate momentum for early reform of the U N Security Council. We are also seeking concerted international action against piracy", he said, adding that a Piracy bill was introduced in Parliament last year for prosecution in India of persons committing piracy.
Noting that India also remained constructively engaged in global multilateral diplomacy, he said New Delhi hosted the fourth BRICS Summit in March last year and the ministerial meet of the Indian Ocean Rim Association for Regional Cooperation in October last year.