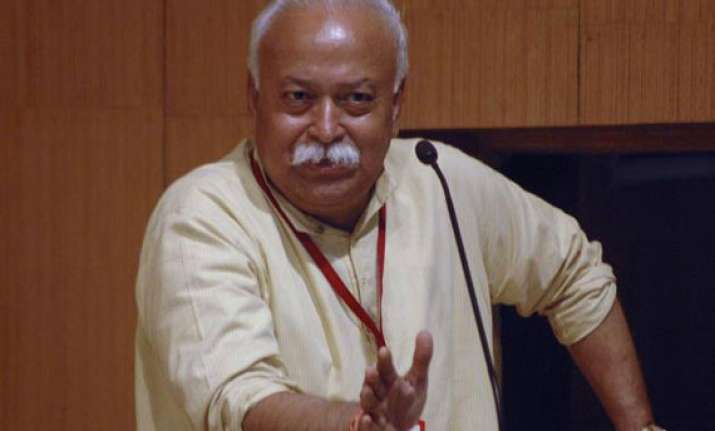 Bhubaneswar, Feb 24: RSS today said that while Pakistan was abetting cross-border terrorism to harm India, China was seeking to ruin the country's economy by flooding the markets with cheap products.
"While Pakistan adopted anti-India policies and openly challenged country's sovereignty, China worked cunningly by launching an economic warfare in the subcontinent," RSS chief Mohan Rao Bhagwat said.
"Pakistan Army brings terrorists to the border and they (terrorists) cut heads of Indian soldiers. Pakistan's policies were open challenge to Indian sovereignty," Bhagwat said referring to recent tension on LOC. 
While Pakistan had all along been adopting anti-India policies, the international community suggested India to maintain restraint (Sayam) whenever some thing wrong took place, he alleged.
"Why do not you (international community) ask Pakistan to stop pursuing anti-India policies," Bhagwat asked adding that Foreign Minister of Pakistan speaks on subjects which she should not during her visit to India and other countries.  
Bhagwat was speaking at a public meeting while winding up his four-day visit to Odisha today.
India only shouts and does not act to stop such heinous (beheading of soldiers) activities of Pakistan, Bhagwat alleged saying that the people of India have reasons to be worried over the security of the nation.  
He said India was countering two types of enemies, one which is visible and another that remained unseen.  
Referring to China as an "enemy invisible", the RSS chief said, "This country has been making preparation to downgrade India internationally. 
China had already completed encirclement by influencing neighbouring countries only to damage might of India.
"China was also all set to destroy India's economy by pushing cheap products to our country, Bhagwat said, adding that even that country tried to divert India's water to their benefit."