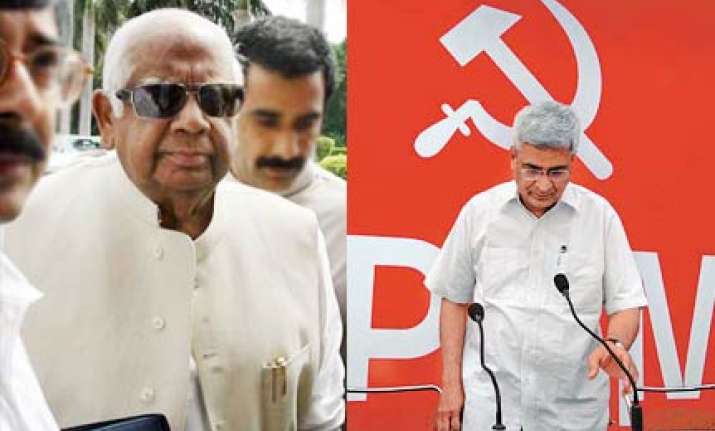 Former Lok Sabha Speaker and expelled CPI-M leader Somnath Chatterjee has revealed for the first time that he could have become President of India, had the party chief given its nod.
In an interview to the Editor-in-Chief Of Indian Express, Shekhar Gupta, Somnath Chatterjee said: "..the situation was such that one nod would have been sufficient. One nod from the person who would decide finally. But this was not done."
Q. That is Prakash (Karat) or Sonia?
Chatterjee: I would not involve Sonia because I did not belong to her party.  
Q. So one nod from Prakash would have done it?
Chatterjee: I think so, because some of his very close friends have also told me. But I can challenge anybody in this country to show that I have ever asked anybody to espouse my cause, or requested anybody. Many leaders from the NDA came to me offering the job. But I said, in my party, this is not the way it is done.  
Q. Do you think you would have made a good President?
Chatterjee: I don't know. Probably I would have made a mess of it, that is why I was not allowed.  
Q. But was it ever explained to you why that nod was not given?
Chatterjee: No. He came and said we have decided not to suggest any candidate for President. That was fair enough. I asked him, "Why have you come to me? Have I told you to make me President? Have I told anybody in this world?' This upsets me, this type of insinuation.  
Q: But you are a political analyst. Can you guess or analyze why the nod was not given?  
Chatterjee: I don't know. I don't want to bring it up because it concerns me.  
In the interview, Chatterjee also revealed how a senior CPI-M leader told him 'Manmohan Singh will get up when we ask him to get up, he must sit down when we ask him to.'
The former Speaker did not reveal his name but said, he was a member of the CPM politburo. "and this what I feel is the trouble of having power without accountability, without responsibility", commented Chatterjee.
The expelled CPI-M leader described the efforts by the Third Front to project Uttar Pradesh chief minister Mayawati as a prime ministerial candidate as 'a comic attempt'.
'It was disastrous. It was a comic attempt. One of the Left leaders said she was the fittest candidate to be the Prime Minister', said Chatterjee.