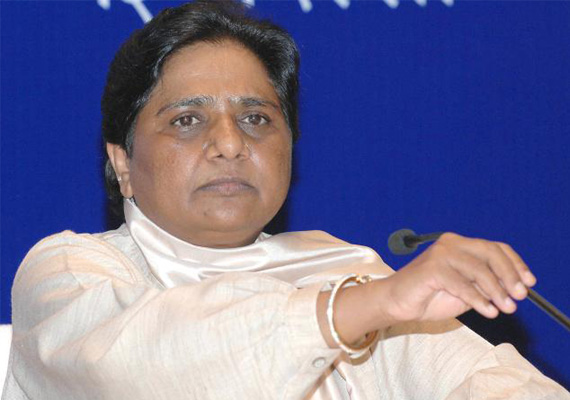 Agra July 31: The decision of the ruling United Progressive Alliance (UPA) on Telangana has struck the right chords in Uttar Pradesh political circles.
Now, supporters of former chief minister Mayawati and those of Ajit Singh's Rashtriya Lok Dal have begun rallying around the demand for splitting Uttar Pradesh into two, three or even four states.
Mayawati has been frantically looking for an issue that could galvanise her Bahujan Samaj Party (BSP) workers in the run-up to the 2014 Lok Sabha polls.
Just before her electoral defeat in the 2012 assembly polls, the BSP supremo had played a political gamble by proposing in the assembly that the sprawling state be split into four parts.
Many people welcomed her proposal, though the Samajwadi Party leaders opposed the idea.
The debate continues on whether smaller administrative units open the way to accelerated economic growth and help bridge communication gap.
At the local level, BSP leaders see political opportunities and a broad-basing of the party organisation. "From just one now, the BSP could rule four states in the future," says a party leader, echoing a widespread feeling.
It was Dr B.R. Ambedkar who in 1954 advocated splitting of bigger states into smaller units.
Later, socialists like Dr. Ram Manohar Lohia, Jai Prakash Narain, Acharya Kripalani and others favoured re-drawing of the administrative map of India. But, Jawaharlal Nehru, the then prime minister, supported the States Reorganisation Commission (SRC) recommendation of re-forming states on linguistic basis.
Choudhary Charan Singh also favoured smaller states. Later, his son and Rashtriya Lok Dal chief Ajit Singh launched a movement for Harit Pradesh, comprising 22 districts of western Uttar Pradesh.
Dr K.M. Panikkar, in his dissenting note to the SRC report, however, opposed linguistic states and favoured formation of a state of west Uttar Pradesh. For years, socialist leader Hukum Singh Parihar alone carried on the movement for a Braj Pradesh with Agra as its capital.
During the 1975-77 Emergency, Sanjay Gandhi almost succeeded in carving out a new state of western Uttar Pradesh with Agra as capital. The new state was to include parts of Haryana too.
The issue came in sharper focus when Agra lawyers, in the early 1980s, launched a mass movement for a Allahabad High Court bench in Agra. The union government set up the Jaswant Singh Commission, which supported the demand.
In the 1990s, Surekha Yadav's Braj Pradesh Party did a lot of work on this front, but response from public was not enthusiastic.
Almost all political parties have at one point or the other supported the restructuring of the federal polity on a more scientific line, taking into account the area and population, says political analyst Rajeev Saxena.
"The time has come when a comprehensive exercise to redraw the political map of India should be carried out through a new SRC," suggests social scientist Paras Nath Choudhary, former researcher at the South Asia Institute of Heidelberg University.
"Size does make a difference. For political reasons, the Congress party has been averse to splitting bigger states into smaller ones and pointlessly dragging feet on such demands as is happening in Andhra Pradesh. Earlier the Uttarakhand movement was unnecessarily prolonged for years," he added.
With Telangana now becoming a reality, people in the Taj city are excited and looking forward to a whole lot of new opportunities, should the dream for a separate state of West Uttar Pradesh take shape.
"With the unwieldy size of Uttar Pradesh, Agra region has always got a raw deal, with all the funds and tax revenues siphoned off to eastern districts. A new state of West Uttar Pradesh, whatever its name, would definitely spur growth and also inculcate a sense of pride and identity," says Sudhir Gupta, an activist.