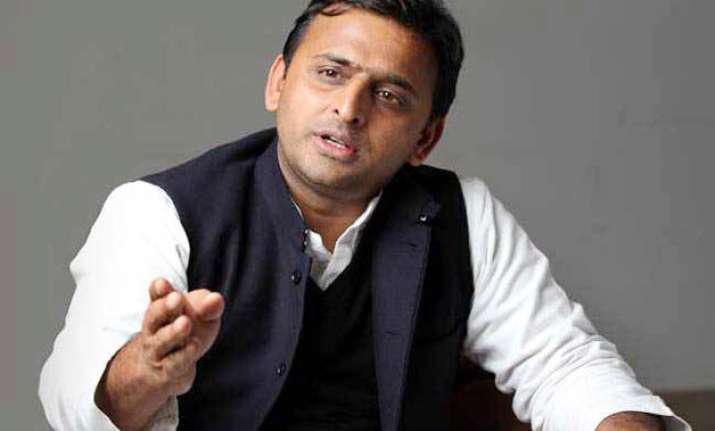 Lucknow:  Uttar Pradesh Chief Minister Akhilesh Yadav today saw "nothing wrong" in his father and Samajwadi Party (SP) supremo Mulayam Singh Yadav "scolding" a senior IPS officer in the state.
"When Mulayam Singh Yadav can scold the chief minister,there is nothing wrong in his scolding an official," Akhilesh said to pointed questions by newspersons in Farrukhabad.
Meanwhile, Governor Ram Naik refused to comment on the controversy, terming it is a political issue.
"I will not comment on it...it is a political issue," he said, adding, "Whatever has to be done, will be done."
The SP chief is in the eye of a storm after he allegedly threatened with serious consequences IG-rank IPS officer Amithabh Thakur asking him to mend his ways.
The audio content purported to be the voice of Mulayam went viral on electronic media after the IPS officer released it along with the text of the alleged conversation.
Senior UP minister Ahmed Hasan, himself a retired IPS officer, trashed Thakur's claims as "irresponsible and childish" and demanded stern action against him.
"Such a behaviour amounts to absolute indiscipline...stern action should be taken against him as it can leave a wrong impact on the police force," Hasan said, adding that no government should ignore this kind of behaviour of its senior officer.
Meanwhile, another senior UP minister Azam Khan demanded that the charges of rape levelled on Thakur should be probed thoroughly. "He has committed an immoral act and should not be spared," Khan said in Jhansi.
He was commenting on the FIR registered against Thakur at Gomti Nagar police station here alleging that he had committed rape. 
The FIR was lodged hours after he gave complaint against Mulayam for allegedly threatening him.
 
 A woman, based in Ghaziabad, had registered FIR against Thakur under IPC sections 376 (rape), 504 (intentional insult) and 506 (criminal intimidation).
Thakur's wife, social activist Nutan Thakur has been made co-accused in the FIR.
On Friday, Thakur had released the text and audio of the purported conversation with Mulayam Singh Yadav claiming that he had issued threats.
Nutan had alleged the provocation behind Mulayam's threat could have been the FIR lodged by her against state Mines minister Gayatri Prajapati.
When asked about the rape FIR against him, Thakur had termed it as a "return gift" of Mulayam.
"It's return gift of Mulayam as I have exposed his threats and made it public and gave complaint against it in police" Thakur said.
As far as rape charges are concerned, Thakur had claimed that police had earlier given in writing before Chief Judicial Magistrate (CJM) and High Court that rape charges are fake.