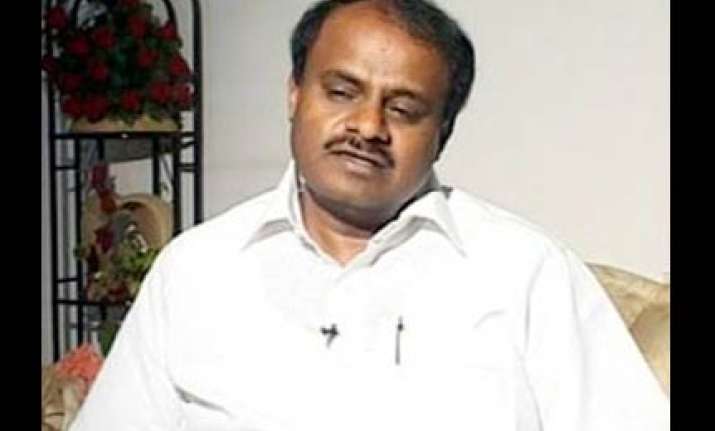 The Janata Dal-Secular on Sunday ruled out support to the BJP government in Karnataka in the event of its numerical strength coming down due to the ongoing tussle between the saffron party and Reddy brothers over the illegal mining issue.
A meeting of JDS office bearers and front ranking leaders held here under leadership of former prime minister H D Deve Gowda and his son, state unit President H D Kumaraswamy, decided against renewal of ties with the BJP.
The JDS had formed a coalition government with BJP in 2006.
"We have categorically decided not to support any party and not to align with any party to form the government. No question of supporting the BJP government whether Reddy brothers remained with it or not," Kumaraswamy told reporters.
Kumaraswamy denied that his party was in talks with BJP to save its government and also statement by state unit BJP president K S Eswarappa over seeking JDS' support.
"It is a mischievous statement aimed at misleading our partymen, people of the state and to paint an impression that JDS is power hungry," he asserted.
The party also decided to launch a padayatra from October 2- Gandhi Jayanthi day - from Basavakalyan in Bidar.
"Our agitation is not confined to illegal mining. We will highlight the failures of BJP government in Karnataka and that of the UPA Government at the Centre, he said.
The "callous" attitude of the BJP government in providing relief to flood victims will be other major issue the JDS will project during its padayatra, he said, adding he and his partymen will halt at villages during the padayatra.
With this Karnataka will witness the third "padayatra" besides the on-going ones  by the opposition Congress from Bangalore to Bellary and that by three Bellary Ministers – B Sreeramulu and Reddy brothers - Janardhana and Karunakara.
He said JDS will also press for a debate on "misuse" of Central funds by the BJP government in the state.
"People are frustrated by the nasty administration of the BJP government. It is not MLAs who will throw out this government, but people of the state," he said.
Decrying the step of banning cow slaughter, he claimed that even before the legislation passed by the legislature got the Presidential approval, the state was trying to implement the law by arresting those engaged in the trade in Tumkur and Chikmagalur. PTI