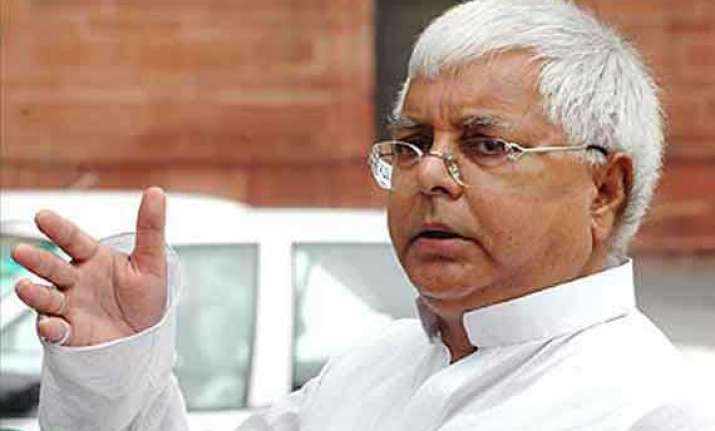 New Delhi : RJD chief Lalu Prasad said Wednesday that not aligning with the Congress in the 2009 Lok Sabha elections was a "mistake" and Nitish Kumar was not a factor in Bihar in the coming elections.
"Not aligning with the Congress (in the last Lok Sabha) elections was a mistake," Lalu Prasad said in the "Ghoshnapatra" programme telecast by ABP news channel.
The Rashtriya Janata Dal (RJD) is in talks with the Congress to finalise an alliance for the Lok Sabha elections expected April-May.
The Lok Janshakti Party, which was expected to be part of the alliance, Wednesday indicated that it was keeping its options open and could ally with the Bharatiya Janata Party.
Lalu Prasad said a Congress-led alliance at the centre was the need of the hour.
Taking a dig at the BJP's prime ministerial candidate Narendra Modi, who he said talks of a "Congress-free India", Lalu Prasad said there has to be a "with-Congress India".
The RJD leader took repeated digs at Modi while answering queries.
"Who is Modi? The US did not give him a passport... the world knows him."
He said the Gujarat chief minister would not come to power.
"The day there is voting, everything will be clear," Lalu Prasad said.
On Modi's remarks about infiltration in Assam, the former Bihar chief minister said the BJP leader was targeting a community.
Lalu Prasad said Gujarat was prosperous from the beginning and its progress had nothing to do with Modi.
He said his party "can never be finished" despite attempts to create problems.
"Lalu has not grown old," he said in a demonstration of his resolve to battle the challenges ahead.
Referring to constraints faced by him in contesting elections following his conviction in the fodder scam case, the RJD chief said: "Whether Lalu fights or not, our ideology will fight."
Lalu Prasad also accused the Rashtriya Swayamsevak Sangh (RSS) and BJP of having a hidden agenda that will "destroy the country".
He said the main agenda was "whether India will stay united or get divided" and his party was ready to make any sacrifice and finish communal forces in Bihar.
"My first agenda is to protect the country from communal forces," he said.
In another dig at Modi, Lalu Prasad spoke about his own rise from humble origins, saying he had himself sold tea and biscuits and herded cattle.
He also said Nitish Kumar's government was in minority in Bihar and the Janata Dal-United leader was not a factor in the state.
Lalu Prasad referred to Nitish Kumar "as a plant I had sowed" and said the JD-U leader had allied with the BJP to defeat him.
He said there was no force that could match the "social justice" done by the RJD.
Answering a query, he said there were several prime ministerial candidates in the country.
He also slammed the Aam Aadmi Party, saying it abused others by staying out of the government.