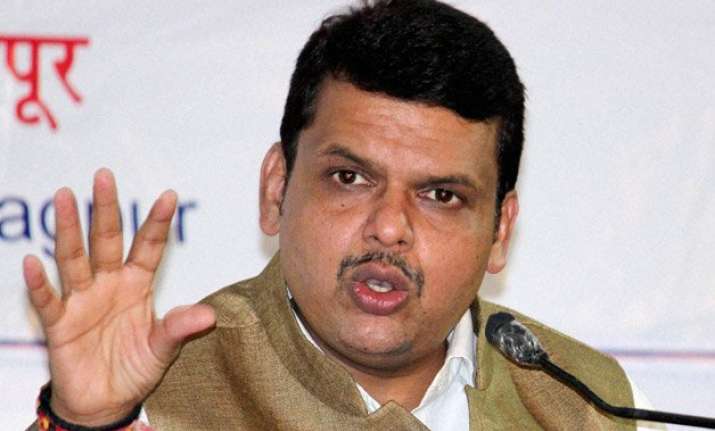 Mumbai: Maharashtra Chief Minister Devendra Fadnavis has said he plans to carry out expansion of the state cabinet after Bihar assembly polls, sending a strong message that there was 'no threat' to his year-old government despite the bickering with ally Shiv Sena.
Projecting a picture of 'all is well' in the BJP-Shiv Sena alliance, the Chief Minister made a direct attack on Sena leader Sanjay Raut, the Executive Editor of party mouthpiece 'Saamana', which has been highly critical of the BJP, and especially the CM.
"There is no threat to my government... Cabinet expansion may take place after Bihar assembly polls. We will also contest the BMC polls in 2017 together as an alliance," Fadnavis said yesterday.
With the Sena-BJP severing ties for the Kalyan-Dombivali Municipal Corporation polls, Fadnavis said the saffron alliance will contest the prestigious BMC polls together.
Seeking to drive home the point that everything is fine in the alliance, he said the fact that the decisions at the Cabinet meeting as late as Wednesday were taken in unanimity without any bickering or tension.
Singling out Raut for attack, the chief minster said, "We go by what party leadership says, and not the newspaper ('Saamana'). It is the habit of Sanjay Raut (of attacking the government). Party view is what the party leadership says. No party speaks through editorial."
"You cannot take a different stand now. During the UPA's regime you (Raut) visit Pakistan and accept their hospitality. And now you cannot change your stand," he said, debunking the Sena leaders attack on the government for allowing release of Mahmood Kasuri's book.
There were reports that the two may part their ways after difference erupted in the wake of Sena's stand on Ghulam Ali concert and Former foreign minister of Pakistan Khurshid Mahmud Kasuri book release event.