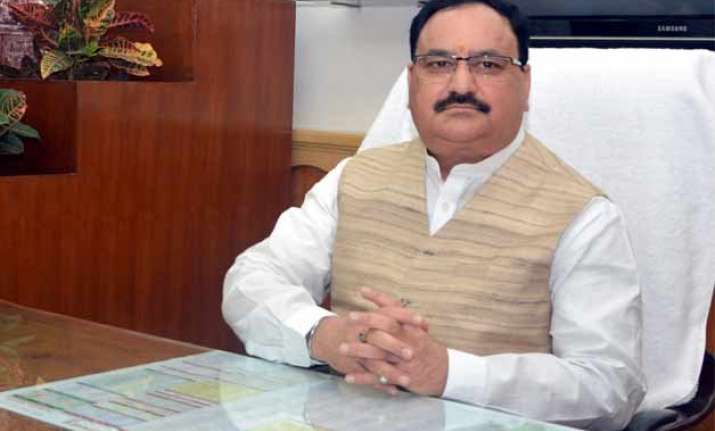 New Delhi: Union Health Minister J P Nadda today sought to allay the apprehension about the swine flu, saying there was no need to panic, even as two fresh cases of the disease were reported in the national capital.
"I am regularly monitoring this subject, and from time to time talking to the Health Secretary and have also reviewed our preparedness.
"Our hospitals and doctors are ready to deal with the situation. At the same time, I would like to say that there is no need to panic," Nadda said.
Two women, aged 35 and 53, residents of C R Park and Chattarpur, have tested positive for H1N1 (swine flu) virus, according to the officials from the health department of Delhi government today.
"The 35-year-old woman is admitted to a private hospital in Kalkaji while the 53-year-old is admitted to Fortis in Vasant Kunj," said Charan Singh, Additional Director (Public Health).
One case of swine flu was reported yesterday also. Delhi Health Secretary SCL Das also reviewed situation today and held a stock taking meeting with all the designated hospitals.
"This year the incidence is mild and the form is non virulent. In 2013, there were 1511 H1N1 cases and 16 deaths.
All 22 designated hospitals to treat swine flu patients are fully prepared and the Directorate of Health Services has reviewed the stock of Tamiflu capsules (for adults) and syrups (for children) and found them to be enough," Das said.  "Standard protocols are available with all hospitals and daily monitoring is being done," Das added.
There are 22 designated hospitals, including five private ones in Delhi which have isolated wards to offer treatment to patients affected by the disease.
The Indian Medical Association (IMA) meanwhile has issued a set of guidelines to tackle swine flu and urged citizens not to neglect minor cases of fever with breathlessness.
"The matter is important as the current seasonal influenza vaccines are not expected to provide protection against human infection with avian or swine flu viruses.
"However, reducing seasonal influenza risk through vaccination might reduce the theoretical risk for recombination of influenza viruses of animal origin," IMA said in a statement.
According to the IMA, a total of 10 deaths in Hyderabad and one death in Delhi have have taken place due to the disease.
Swine flu can have symptoms like fever, coryza, cough, sore throat and body aches. It may last for one-two weeks, said IMA.
However, occasionally, nausea, vomiting, diarrhoea and rash may also occur.
The government has designated both government and private labs to test the presence of virus, it said.
The government has also set a control room -- 23061469-- for any kind of information on swine flu, it said.