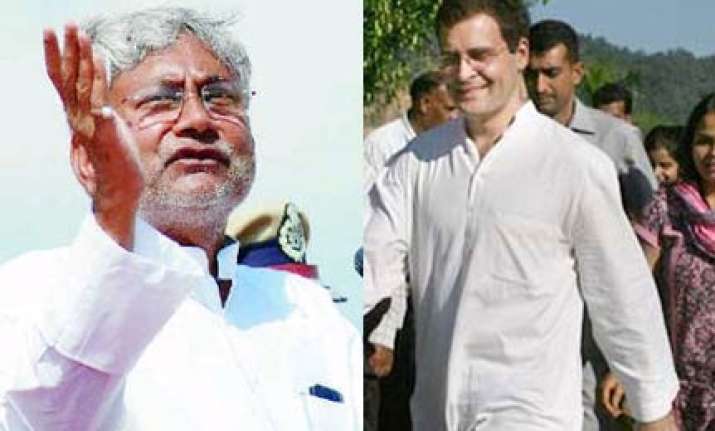 Motihari (Bihar), Oct 15: Chief Minister Nitish Kumar today locked horns with Rahul Gandhi over central funds to Bihar and dared the Congress leader to stop the allocation to the state, saying the funds are not given at somebody's 'meharbani' (favour).
"Allocation of funds to the state by the Centre is in keeping with settled norms and provisions...it is not at somebody's meharbani (favour)," Kumar told an election meeting here while canvassing support for the NDA nominees.
As the campaign rhetoric ahead of the polls in the state grew shrill, the JD(U) leader also dared the Congress General Secretary to stop the funds being sent by the Centre to Bihar. The first phase of the six-phase elections starts on October 21 and ends on November 20.
Gandhi had during election meetings at Sikti, Korha and Raghopur yesterday claimed that the Centre had provided more funds for the development of the state "but it failed to reach the deserving sections of society because of corruption."
"It is unfortunate that development has not taken place in Bihar despite the funds provided by the UPA (United Progressive Alliance) government to the tune of Rs 1 lakh crore. It was double the amount given by the previous NDA (National Democratic Alliance) government to the state - which was Rs 50,000 crore only," he said. PTI