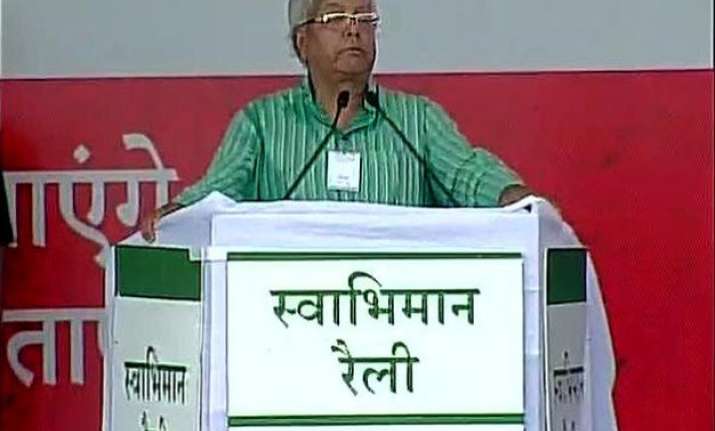 Patna: Bihar chief minister Nitish Kumar, RJD supremo Lalu Yadav and Congress president Sonia Gandhi together launched their campaign for the upcoming Bihar Assembly elections at Gandhi Maidan in Patna today.
The rally, dubbed as the first big show of unity by the grand secular alliance, witnessed ahuge turnout with lakhs of people coming  from different parts of Bihar.
The rally is happening just two days before Modi's fourth rally in the state.
On August 12, JDU, RJD and the Congress had announced their seat sharing formula for the upcoming Bihar assembly elections. JDU and RJD had decided to contest on 100 seats each for the 243-member assembly. As per the seat agreement, Congress will put up candidates in 40 constituencies.
Here are the highlights :
* BJP has already lost the battle in Bihar: Lalu
* BJP means 'Bharat Jalao Party': Lalu
* Ram Vilas Paswan is like a weather scientist: Lalu
*  We do not need smart city but smart village: Lalu
* There is an attempt to get my bail cancelled: Lalu
* BJP wants to divide the Yadav community of Bihar: Lalu
* This is not the Bihar of 1990's: Lalu
* BJP has not fulfilled its promises on black money:  Lalu
* Nitish has established rule of Law in Bihar: Lalu
* This is not Jungleraj 2 but Mandalraj 2: Lalu
* lauds Lalu Yadav dubs hims as voice of poor people in Bihar
*  slams Modi govt for not fulfilling promising 2 cr jobs per year
* Sharad Yadav addressing the rally
* Nitish concludes his speech
* Nitish seeks special status for Bihar
*  BJP will witness the same fate in Bihar that they have faced in Delhi elections
* Every household in Bihar will have power connection in the next five years
* We will create a Bihar where people dont leave Bihar to find opportunities, but people come here
* Police in Delhi is controlled by Modi ji; there is less crime in Bihar as compared to Delhi
* Nitish cites Delhi's rising crime graph to counter Modi's claim of surge in crime during JD(U) -RJD allaince
* Nitish Kumar attacks Modi for calling RJD 'Rojana Jungle Raj ka Darr',  Bihar has rule of rule of law, not jungle raj.
* Takes snipe at PM Modi on black money, saying where is the black money after 15 months in power.
* PM Modi has challenged our self-respect and we cannot compromise on that
* They questioned my DNA. Who am I? I am yours. My DNA is the same as anyone in Bihar.
* slams Modi for his DNA remark
* dubs PM Modi's special package as mere repackaging of previous schemes
* PM did not remember Bihar for 14 months, but only on the eve of election: Nitish Kumar
* PM has to cower down on the issue of Land bill, it was the Mann Ki Baat of Indian people.
*  Appreciating Land Bill of 2013, Nitish Kumar says that to take the lands of farmers the amendments were proposed in the bill  by the Centre.
*  Nitish applauds crowd saying that your presence in large number is an answer to people who mocked Bihar.
*  Nitish Kumar adressing rally
* Sonia Gandhi ends her speech during Swaabhimaan rally with "Jai Hind, Jai Bihar"
* Our "mahagatbandhan" is founded on the idea of walking the path of development: Sonia Gandhi
* Sonia Gandhi targets Narendra Modi government, says even after completing a quarter of its regime it has done nothing except showing off.
* Sonia Gandhi lauds efforts of Nitish Kumar, Lalu Prasad in developing Bihar
* Congress has always respected the people of Bihar and have always worked for the development of the state: Sonia Gandhi
* This land is the land that sends across the message of peace: Sonia Gandhi
* Sonia Gandhi addressing the Swabhiman rally.