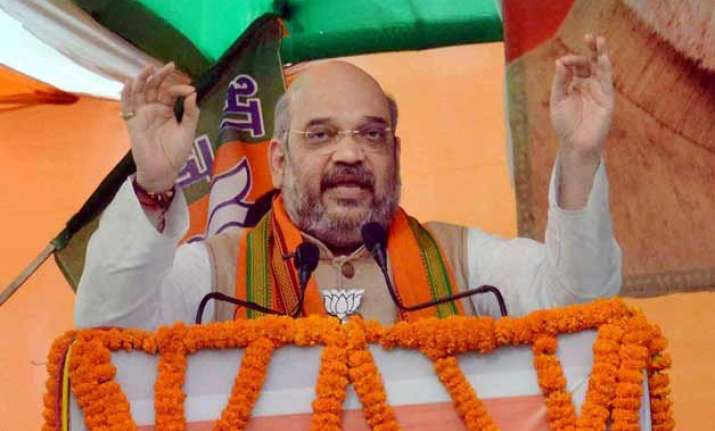 Bhagalpur/Rosera: Terming Bihar Chief Minister Nitish Kumar as a "mask" of the Grand Secular Alliance, BJP president Amit Shah today said that it would be "Jungle Raj-2" if Kumar returned to power.
"Nitish Kumar is only a mask and just behind the mask is 'Jungle Raj'. If Nitish Kumar comes back to power, it will be the return of 'Jungle Raj-2'," Shah told an election meeting at Bhagalpur.
Shah wondered how JD(U)'s Nitish would be able to take the path of development, especially when "he is carrying (RJD president) Lalu Prasad's 'jungle raj' on one shoulder and Congress's 'brashtachar' (corruption) on the other shoulder".  
Addressing another election meeting at Rosera in Samastipur, Shah said he agreed with Nitish's assertions that only a "Bihari" (insider) would rule Bihar.  
"Yes Nitishji, we do say that Bihari will rule over the state but that Bihari will be from BJP as the party has a galaxy of popular and able leaders... And there is no place for you (Nitish) at all," he said.
He asked Kumar to get his resignation ready on November 8 (when result of Bihar polls will be declared).
The BJP president admitted to having some problem within the party over ticket distribution as it had the largest number of workers and leaders.
He, however, in a bid to turn the tables on rival coalition asked "what happened to their alliance".  
"The head of the alliance (janata pariwar) has walked out," the BJP said referring to SP chief Mulayam Singh Yadav's decision to quit the 'Grand Secular Alliance'.  
Thanking the people of the state for the massive mandate they gave during Lok Sabha poll which helped the party in getting absolute majority, BJP chief said the party owed its responsibility to Bihar's development and hence the Prime Minister announced Rs 1.65 lakh crore package that includes Rs 40,000 crore for existing and ongoing schemes.  
He said Kumar would not be able to implement the special package and stressed on a BJP-led government in the state which could work in tandem with the Central government and execute its schemes and package.