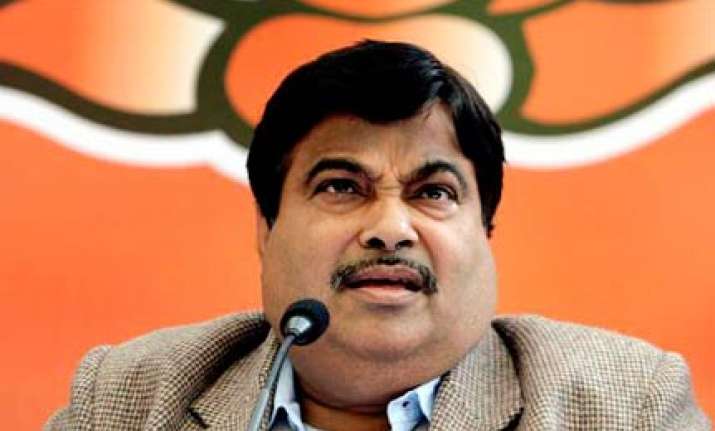 Bharatiya Janata Party (BJP) president Nitin Gadkari on Tuesday announced the party's new team of office bearers, thereby ending a three-month long suspense. Gadkari's jumbo team, includes 13 vice presidents, 10 general secretaries, 15 secretaries and a treasurer.
Hema Malini, Najma Heptullah, BS Koshiyari, Kalraj Mishra, M A Naqvi, Vinay Katiyar and Shanta Kumar have been appointed BJP vice-presidents by Nitin Gadkari.
Navjot Singh Sidhu, Smriti Irani, Pilibhit (UP) MP Varun Gandhi are among the new BJP brigade who have been appointed general secretaries. Arjun Munda, Ananth Kumar, ex-Delhi mayor Arti Mehra and Ravi Shankar Prasad have also been appointed secretaries in the party.
Former Rajasthan chief minister Vasundhara Raje, who had openly rebelled against former BJP president Rajnath Singh, also features in Gadkari's list as a general secretary of the BJP.
Prakash Javadekar and Rajiv Pratap Rudy will continue as the party's spokespersons. Piyush Goyal has been appointed treasurer.
BJP stalwarts Arun Shourie and Yashwant Sinha's names are, however, missing from the list of new appointees.
"The list is such that people from Andaman to Jammu and Kashmir, from Gujarat to Assam are being represented. It is a balanced list with women, Dalits, tribes, all included," BJP chief spokesperson Ravi Shankar Prasad told reporters.
Gadkari soon after being elevated to the post of BJP president had said that he wanted to bring some changes in the saffron brigade eyeing upon infusing new spirit in the party.
Rudy said the team will bring new enthusiasm in the party. "It is a blend of young and experience."
The office bearers include 13 women. In all, there are 40 women members in the new team.
Gadkari has also constituted a 12-member BJP parliamentary board. Gadkari will head the board whose other members include Atal Bihari Vajpayee, L.K. Advani, Murali Manohar Joshi, M. Venkaiah Naidu, Rajnath Singh, Sushma Swaraj, Arun Jaitley and Bal Apte.