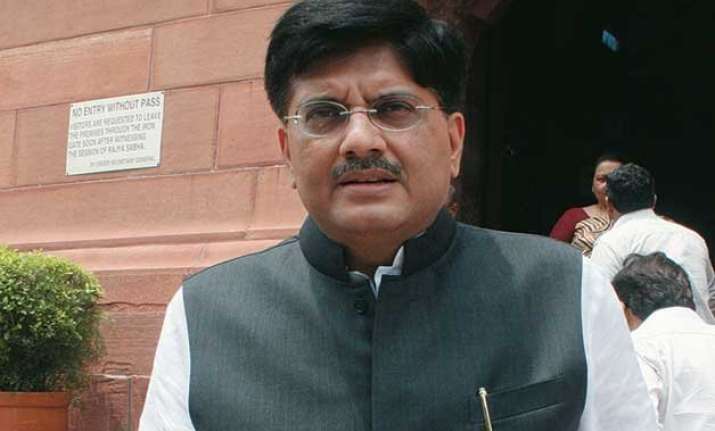 Mumbai: The government is ready to launch the next round of coal block auctions from April even as it is facing litigation by JSPL, which saw its bids being cancelled in the last round of auctions.
"We will be launching a new round of coal block auctions in April. This will be a part of the 204 blocks, which are being auctioned," Union Power Minister Piyush Goyal told reporters here today.
He did not give the exact number of the blocks to be sold in the next round. An official had yesterday said that the government was looking at auctioning 15-20 blocks.  Goyal's comments come a day after Jindal Steel & Power Ltd secured a stay from the Delhi Court yesterday on government's move to cancel three of coal blocks in Chhattisgarh and allot them to Coal India.
Reacting to the court stay on this issue, he said the ministry respects the decision, but added that there was no favouritism.
"If there are no comparable bids, it is my duty to ensure that there is no injustice to the national resources. But we do not have any problem with the decision of the court. We will present our side to the court. I am clean, there has not been any favouritism and we give equal opportunities to all companies," Goyal said.
The government has already garnered over Rs 2 trillion by auctioning just 33 blocks, surpassing the Rs 1.86 trillion loss estimated earlier by government auditor CAG for allotment of mines without auctions.
The Supreme Court had in September cancelled the allocations of 204 blocks in all, terming the process as "fatally flawed", leading the current round of auctions.  The government has rejected bids received in the last round for four coal blocks.
The mines whose bids were rejected include Gare IV/2, Gare Palma IV/3 and Tara coal blocks in Chhattisgarh in which JSPL had emerged as the highest bidder, and Gare Palma IV/1 mine bagged by Bharat Aluminium Company (Balco).
Parliament had last week approved Coal Mines (Special Provisions) Bill of 2015, which forms part of NDA government's reforms agenda, on the last day of the first half of Budget session and the ordinance on this were to lapse on April 5.  
Goyal, who also oversees the coal portfolio, said there has been over 7 per cent increase in domestic coal output this fiscal to 478 million tonnes, as against the low single-digit growth in the previous UPA regime.
On the controversial Dabhol power project, Goyal said very soon there will be some solution which will be announced.  
"We had very good discussions with the Chief Minister and (state) power minister. Progress is being made to resolve all the gas-based stranded plants in the country and I am sure you will hear some very interesting good news in the near future," he said.