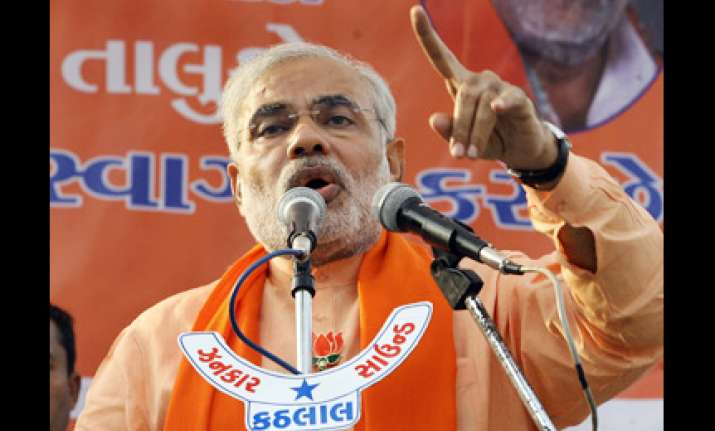 "Nehru-Gandhi family member was Prime Minister for most of the years after independence, even then why poverty remains in the country today," Gujarat Chief Minister, Narendra Modi asked voters at in a huge public meeting in Amravati. 
The public meeting was organised for election campaign of BJP-SS candidates - Dr Pradip Shingore (Amravati constituency) and Sudhir Suryawanshi (Badnera) at Science Core Ground in Amravati. 
Criticising Congress, Modi said that Central government should tell people what it has done for them. "Congress now talks about the poor and Prince Rahul is going to huts of the poor. We welcome it. But along with other questions, he should ask why these people remained poor till today even when his grand-grand father, his grandmother and father were prime ministers for most of the years after the independence," he said." 
Congress has made a mockery of the poor and their poverty. In the name of working for the poor, they (Congress) are only showing dreams to people," he charged and added that Central government had given a 24-point programme which was formed during Indira Gandhi's regime and every state government implemented it for poverty alleviation. 
In this implementation, Gujarat was at number one position while no other of the Congress governed states was even within first five positions, he said.   
Modi said that Maharashtra and Gujarat took birth at the same time and for many years, Maharashtra was ahead of Gujarat in all types of development. In the last 10 years, Gujarat went ahead by leaps and bounds while Maharashtra is continuously lagging behind. "It becomes news in Maharashtra when electricity comes, while in Gujarat 24 hours electricity is provided to all villages," he added. 
"Here (Maharashtra), cotton growers are dreaming about deaths while in Gujarat, cotton farmers are dreaming about spending wealth. We have abolished the octroi while here traders are worried due to it. We have 'Registan' on one side while 'Pakistan' on other, and still we are progressing. As a state, Gujarat feels that Maharashtra, which is our elder brother, should also grow like us and there should be a positive competition between us for the development. For this, people in Maharashtra should vote for BJP-SS alliance in these elections," Modi appealed. 
In his unique style, Modi told that Union Ministers Sharad Pawar, Sushil Kumar Shinde and Shivraj Patil, who are all from Maharashtra, have not done anything for the state. Terrorism, Maoism, Naxalism are creating a menace in the country and there is a danger of creation of 'Red Corridor'. 
"Our borders have not remained safe and our cops are dying everyday inside the country by ultras' attacks. In such cases also, Central government does not bother to bring anti-terrorism law and criticise us for implementing that law.   
Country should seek answers for these questions from Congress. BJP-SS alliance has given the 'mantra' of development and people should now vote for bringing this alliance to form government for in Maharashtra," Modi appealed. 
MLC Jagdish Gupta, senior BJP leaders Kiran Mahalle, Nivedita Chaudhari, BJP district secretary Tushar Bharatiya, former district chief of SS Someshwar Pusatkar, Prof Ravindra Kadu and Ajay Samdekar were present. PTI